The Last Jewish Virgin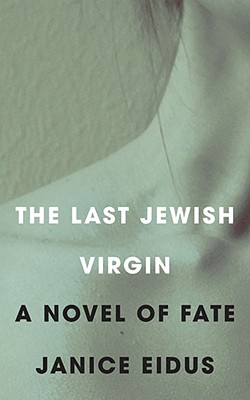 The Last Jewish Virgin
A Novel of Fate
Red Hen Press, Paperback, 9781597093934, 147pp.
Publication Date: October 1, 2010
* Individual store prices may vary.
Buy at Local Store
Enter your zip code below to purchase from an indie close to you.
or
Buy Here
Description
Lilith Zeremba, a young woman rebelling against her intellectually complex, feminist Jewish mother, is The Last Jewish Virgin. In this playful and provocative, sensual and suspenseful novel, Janice Eidus merges the timeless, romantic myth of the vampire with contemporary life in volatile New York City and beyond. Determined to make her own way on her own terms as a successful Jewish woman in the world of fashion, Lilith finds herself in a place where mythology and sexuality collide. She meets two men to whom she is drawn in ways that feel dangerous and yet inevitable: the much older, wildly mercurial and mesmerizing Baron Rock, and Colin Abel, a young, radiant artist determined to make the world a better place, one socially progressive painting at a time. The Last Jewish Virgin, an innovative and universal tale of longing and redemption, refreshes and reinvents the classic vampire myth for a contemporary world in which love, compassion, faith, and politics are forever evolving and intersecting in surprising and original ways.

About the Author
Janice Eidus has won numerous awards for her writing, including two O. Henry Prizes and the Independent Publishers Award in Religion for her recent novel, The War of the Rosens. Her other books include The Celibacy Club, Vito Loves Geraldine, Urban Bliss, and Faithful Rebecca; and, she's the co-editor of It's Only Rock and Roll: An Anthology of Rock and Roll Short Stories. Her work also appears in such anthologies as The Oxford Book of Jewish Stories; Neurotica Jewish Writers on Sex; and Desire: Women Write about Wanting, and in leading newspapers and magazines including The New York TImes, Jewish Currents, Tikkun, and The Forward. She lives in New York City and Mexico with her husband and daughter. "
Praise For The Last Jewish Virgin…
"Mazel Tov! It's Twilight … with a sense of humor, a brain, and a feminist subtext …I tell you, the Undead have been waiting a long time for Janice Eidus."

                —Marion Winik, NPR commentator, author of First Came Love
 

"Nobody writes about Jewish cultural life quite as funnily and piercingly as Janice Eidus."

                —Mindy Lewis, editor, Dirt: The Quirks, Habits, and Passions of Keeping House
 
Janice Eidus has written the quintessential New York vampire novel. The Last Jewish Virgin delves head-on into the secret desires of Lillilth Zeremba, fashionista and feminist, a good Jewish girl who falls prey to the enigmatic art professor who devours her with his eyes. Sexy and smart, this delicious page turner will suck you in.
—Marcy Dermansky, author of BAD MARIE
 
"Janice Eidus has written the quintessential New york vampire novel. The Last Jewish Virgin delves head-on into the secret desires of Lillith Zeremba, fashionista and feminist, a good Jewish girl who falls prey to the engmatic art professor who devours her with his eyes. Sexy and smart, this delicious page turner with suck you in."
-Marcy Dermansky, author of BAD MARIE
There's nothing that I love more than fashion and Jewish humor (I'm a Jew myself) and Janice Eidus combined the two in her new novel The Last Jewish Virgin. Determined to make her own way, on her own time, Lilith Zeremba is obsessively driven to become (and recognized as) a successful Jewish woman in the world of fashion design. To break away from her traditional roots she attends Bennett Institute of Art & Design. Of course, a fabulous love story must come into play when she's drawn to two men that feel dangerous, yet inevitable…maybe they're goys, the perfect Jewish rebellion. Jew or Goy, Mazel Tov on The Last Jewish Virgin and bringing some eroticism into Judaism.
—review by James Cyk, V Magazine (http://www.vmagazine.com/2010/11/sex-is-a-mitzvah/)
From NewPages.com
Fashion student Lillith Zeremba wants to be noticed. She also strives to be the total opposite of her mother Beth, a famous feminist professor. This good Jewish girl and sworn virgin from the Upper West Side gets more than she wished for when she walks into the "ageless" sunglass-wearing Baron Rock's classroom in Janice Eidus's The Last Jewish Virgin: A Novel of Fate, an entertaining, original, and psychologically creepy variation of immortal love…for while Lillith suspects it, readers know right away that Baron is a vampire.
Usually, ageless male vampires and vulnerable, pure young women always find each other in remote places like the Pacific Northwest. Eidus gives city girls an undead fantasy of their own by setting her novel in contemporary New York City. Exact dates aren't provided because vampires do not adhere to mortal time, but the story takes place before gentrification of the Lower East Side, a neighborhood Lillith finds intimidating. Then, the Dads are almost always the primary caregivers and vampire hunters. Beth is a key character because beneath her hardened interior is a hopeless romantic, something as irresistible to Baron as her naïve daughter. Finally, there is always less-menacing boyfriend material. Lillith's classmate Colin Abel is a sweet Jewish blond boy who wants to change the world through art.
What makes The Last Jewish Virgin a fun read is how Eidus plays around with vampire lore. Lillith's half-hearted attempt researching vampires brings her to the video store and the unnamed-yet-recognizable version of Dracula starring a Byronic rather than Satanic Frank Langella:
Tall and dashing in his swirling black cape, he broke into the virginal Miss Mina's bedroom, standing above her as she offered him her enticing, swan-like neck, and while he looked at her with fiery eyes that commanded her to be his. And just like that, presto, she was a goner. I touched my own neck, remembering Mr. Rock's unexpected, teasing kiss.
This feeds directly into her romantic fantasies. Had one of the Hammer Dracula films starring Christopher Lee or Murnau's Nosferatu been available she might not be so enamored.
Or would she? The author never forgets that vampires are cruel. This is no sweet love story. Lillith's first-person narration indicates that she is aware of what Baron is doing to her—and that she enjoys it. Baron's treatment of Lillith as a life model and his endorsement of two female classmates bullying her are misogynistic, let alone cause for a harassment suit in ordinary circumstances. His mind games include disrupting her sleeping and eating patterns and leaving timely (vampires can make time work to their advantage) voicemails. The girl also finds herself walking long distances in a trance.
Readers will also enjoy how Eidus uses word games to tell the story. The heroine's name is Hebrew for "demon of the night." Depending on personal preference, the besotted Colin Abel has a name right out of the Old Testament, puritanical New England, or John Steinbeck's East of Eden. Although nothing genteel happens to our heroine there, the Jane Austen-sounding Bennett Institute of Art and Design is a thinly veiled name for The Parsons School of Design. Best and most obvious of all is the juicy substitution of "Baron" for "Count."
The Last Jewish Virgin: A Novel of Fate is a welcome addition to vampire literature. The only complaint readers might have is that this tight, vivid narrative leaves no possibility for a sequel.