Madness of Flowers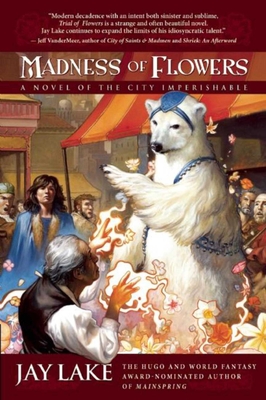 Madness of Flowers
A Novel of the City Imperishable
Night Shade Books, Paperback, 9781597800983, 326pp.
Publication Date: October 1, 2009
* Individual store prices may vary.
Buy Now
or
Shop Local
Enter your zip code below to purchase from an indie close to you.
Description
The battle has been fought and won, and all have been transformed by the struggle. Imago of Lockwood has become Lord Mayor of the City Imperishable, though at a price beyond his wildest imagination. Bijaz the Dwarf has been imbued with a godlike power and a responsibility he scarcely understands. And Jason the Factor, resurrected from death at the hands of his sister, the Tokhari sandwalker Kalliope, has become the sula ma-jieni na-dia, the fabled Dead Man of Winter. When a beautiful mountebank arrives in the City Imperishable, offering to lead an expedition to uncover the lost tomb of the Imperator Terminus, she stirs up the mob with promises of treasure and imperial power... but what will her quest unleash? Political intrigue, adventure, and all-out war await the principles and inhabitants of the City Imperishable. Through it all, the City may endure, but none will remain untouched by the Madness of Flowers...
About the Author
Jay Lake is the author of the Mainspring and Green series from Tor, as well as several independent press novels and numerous short stories. In 2013, his steampunk novella, "The Stars Do Not Lie," was nominated for the Nebula, Hugo, and Locus awards. He lives and writes in Portland, Oregon.