Eclipse 2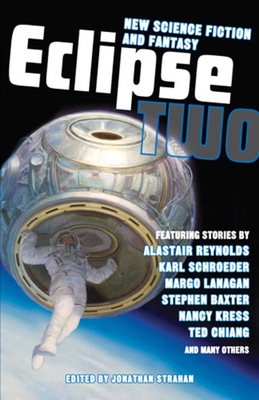 Eclipse 2
Night Shade Books, Paperback, 9781597801362, 256pp.
Publication Date: December 2008
* Individual store prices may vary.
Not Currently Available for Direct Purchase
or
Shop Local
Enter your zip code below to purchase from an indie close to you.
Description
An eclipse is a rare and unusual event, when the world is transformed and the sky becomes a dark eldritch thing. It's a time when anything could happen, when any kind of story just might be true. That sense of the strange and wonderful guides Eclipse: New Science Fiction and Fantasy, the second volume in an exciting new annual anthology series edited by acclaimed anthologist Jonathan Strahan.
Set to become a major event on the science fiction and fantasy calendar, Eclipse: New Science Fiction and Fantasy gathers together new science fiction and fantasy stories by the best writers working today. You can see that in Eclipse Two, which features more extraordinary tales of the fantastic and astounding.
About the Author
In a career spanning four decades, award-winning author Diana Wynne Jones (1934 2011) wrote more than forty books of fantasy for young readers. Characterized by magic, multiple universes, witches and wizards and a charismatic nine-lived enchanter her books are filled with unlimited imagination, dazzling plots, and an effervescent sense of humor that earned her legendary status in the world of fantasy.

Stephen Baxter is an acclaimed, multiple-award-winning author whose many books include the Xeelee Sequence series, the Time Odyssey trilogy (written with Arthur C. Clarke), and The Time Ships, a sequel to H. G. Wells's classic The Time Machine. He lives in England.

Nancy Kress was born and raised in upstate New York, where she spent most of her childhood either reading or playing in the woods. She earned a bachelor's and master's degree in education, as well as an M.A. in English. While she was pregnant with the second of her two sons, she started writing fiction. She had never planned on becoming a writer, but staying at home full-time with infants left her time to experiment. In 1990 she went full-time as an SF writer. The first thing she wrote in this new status was the novella version of "Beggars In Spain", which won both the Hugo and the Nebula Award. She is the author of more than twenty books, including more than a dozen novels of science fiction and fantasy, as well as three story collections, and two books on writing. "Probability Space" (Tor, 2002) won the John W. Campbell Award for Best SF novel. Her short fiction has appeared in all the usual places, garnering her one Hugo and three Nebula Awards. Her work has been translated into Swedish, French, German, Italian, Spanish, Polish, Japanese, Croatian, Lithuanian, Romanian, Greek, Hebrew, and Russian. She is also the monthly "Fiction" columnist for "Writer's Digest" Magazine and she teaches writing regularly at various places, including Clarion and The Writing Center in Bethesda, Maryland. She currently resides in Rochester, New York.