God's War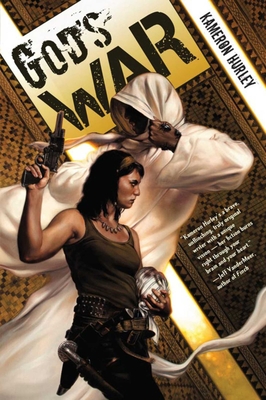 God's War
Night Shade Books, Paperback, 9781597802147, 287pp.
Publication Date: February 1, 2011
* Individual store prices may vary.
Buy at Local Store
Enter your zip code below to purchase from an indie close to you.
or
Buy Here
Description
Nyx had already been to hell. One prayer more or less wouldn't make any difference...

On a ravaged, contaminated world, a centuries-old holy war rages, fought by a bloody mix of mercenaries, magicians, and conscripted soldiers. Though the origins of the war are shady and complex, there's one thing everybody agrees on--

There's not a chance in hell of ending it.

Nyx is a former government assassin who makes a living cutting off heads for cash. But when a dubious deal between her government and an alien gene pirate goes bad, Nyx's ugly past makes her the top pick for a covert recovery. The head they want her to bring home could end the war--but at what price?

The world is about to find out.
About the Author
Kameron Hurley is the author of the novels "God's War, Infidel", and "Rapture" a science-fantasy noir series which earned her the Sydney J. Bounds Award for Best Newcomer and the Kitschies Award for Best Debut Novel. She has won the Hugo Award (twice), and been a finalist for the Nebula Award, the Clarke Award, the Locus Award, and the BSFA Award for Best Novel. Her most recent novel is the epic fantasy The Mirror Empire. The sequel, "Empire Ascendant", will be out in October 2015. She writes regularly for "Locus Magazine".