Philip K. Dick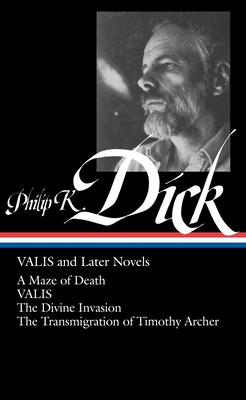 Philip K. Dick
Valis and Later Novels
Library of America, Hardcover, 9781598530445, 850pp.
Publication Date: July 30, 2009
* Individual store prices may vary.
Buy Now
or
Shop Local
Enter your zip code below to purchase from an indie close to you.
Description
In 2007, "Philip K. Dick: Four Novels of the 1960s" became the fastest selling title in The Library of America's history. The 2008 companion volume, "Five Novels of the1960s & 70s," broke series records for advance sales. Now comes a third and final volume gathering the best novels of Dick's final years, when religious revelation, always important in his work, became a dominant and irresistible theme.
In "A Maze of Death" (1970), a darkly speculative mystery that foreshadows Dick's final novels, colonists on the planet Delmak-O try to determine the nature of the God-or "Mentufacturer"-who plots their destiny. The late masterpiece "VALIS" (1981) is a novelistic reworking of "the events of 2-3-74," when Dick's life was transformed by what he believed was a mystical revelation. It is a harrowing self-portrait of a man torn between conflicting interpretations of what might be gnostic illumination or psychotic breakdown. "The Divine Invasion" (1981), a sequel to "VALIS," is a powerful exploration of gnostic insight and its human consequences. "The Transmigration of Timothy Archer" (1982), Dick's last novel, is by turns theological thriller, roman a clef, and disenchanted portrait of late 1970s California life, based loosely on the controversial career of Bishop James Pike-a close friend and kindred spirit.
About the Author
Philip K. Dick (1928-1982) was an American science-fiction novelist, short-story writer and essayist. A contemporary of Ursula K. Le Guin, Dick's first short story, "Beyond Lies the Wub," was published shortly after his high-school graduation. Many of Dick's works drew upon his personal experiences with drug abuse, addressing topics such as paranoia and schizophrenia, transcendental experiences and alternate reality, and the childhood death of his twin sister is reflected through the recurring theme of the "phantom twin" in many of his novels. Despite ongoing financial troubles and issues with the IRS, Dick had a prolific writing career, winning both the Hugo Award and the Nebula Award multiple times. Some of his most famous novels and stories--A Scanner Darkly, "The Minority Report," "Paycheck," and Do Androids Dream of Electric Sheep? (adapted into the film Blade Runner)--have been adapted for film. Dick died in 1982.



Jonathan Lethem is the author of the novels Gun, with Occasional Music, Amnesia Moon, As She Climbed Across the Table, and Girl in Landscape. He lives in Brooklyn, NY.