Uncle Tom's Cabin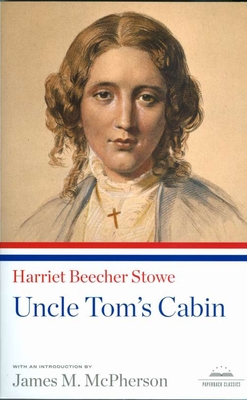 Uncle Tom's Cabin
Library of America, Paperback, 9781598530865, 529pp.
Publication Date: August 12, 2010
* Individual store prices may vary.
Buy at Local Store
Enter your zip code below to purchase from an indie close to you.
or
Buy Here
Description
""The most powerful and enduring work of art ever written about American slavery.""
-Alfred Kazin
When Abraham Lincoln met Harriet Beecher Stowe in 1862, he greeted her as "the little woman who wrote the book that made this great war." He was exaggerating only slightly. First published in 1852, "Uncle Tom's Cabin" sold more than 300,000 copies in its first year and brought home the evils of slavery more dramatically than any abolitionist tract possibly could. With its boldly drawn characters, violent reversals of fortune, and unabashed sentimentality, Stowe's work remains one of the great polemical novels of American literature, a book with the emotional impact of a round of cannon fire.
For almost thirty years, The Library of America has presented America's best and most significant writing in acclaimed hardcover editions. Now, a new series, Library of America Paperback Classics, offers attractive and affordable books that bring The Library of America's authoritative texts within easy reach of every reader. Each book features an introductory essay by one of a leading writer, as well as a detailed chronology of the author's life and career, an essay on the choice and history of the text, and notes.
The contents of this Paperback Classic are drawn from "Harriet Beecher Stowe: Three Novels," volume number 4 in The Library of America series. That volume also includes "The Minister's Wooing "and "Oldtown Folks."

About the Author
Harriet Beecher Stowe was an American author and abolitionist. Born in Litchfield, Connecticut, she was raised in a deeply religious family and educated in a seminary school run by her elder sister. In her adult life, Stowe married biblical scholar and abolitionist Calvin Ellis Stowe, who would later go on to work as Harriet s literary agent, and the two participated in the Underground Railroad by providing temporary refuge for escaped slaves travelling to the American North. Shortly before the outbreak of the American Civil War, Stowe published her most famous work, Uncle Tom s Cabin, a stark and sympathetic depiction of the desperate lives of African American slaves. The book went on to see unprecedented sales, and informed American and European attitudes towards abolition. In the years leading up to her death, suffering from dementia or Alzheimer s disease, Stowe is said to have begun re-writing Uncle Tom s Cabin, almost word-for-word, believing that she was writing the original manuscript once again. Stowe died in July 1, 1896 at the age of eighty-five.

James M. McPherson is a distinguished Civil War historian. He won the 1989 Pulitzer Prize for his book BATTLE CRY OF FREEDOM: THE CIVIL WAR ERA. His other publications include MARCHING TOWARD FREEDOM: BLACKS IN THE CIVIL WAR, Second Edition (1991); ORDEAL BY FIRE: THE CIVIL WAR AND RECONSTRUCTION, Third Edition (2001); ABRAHAM LINCOLN AND THE SECOND AMERICAN REVOLUTION (1991); FOR CAUSE AND COMRADES: WHY MEN FOUGHT IN THE CIVIL WAR (1997), which won the Lincoln Prize in 1998; CROSSROADS OF FREEDOM: ANTIETAM (2002); HALLOWED GROUND: A WALK AT GETTYSBURG (2003); and TRIED BY WAR: ABRAHAM LINCOLN AS COMMANDER IN CHIEF (2008), which won the Lincoln Prize for 2009. Professor McPherson served as president of the American Historical Association (2003-2004).