The 50 Funniest American Writers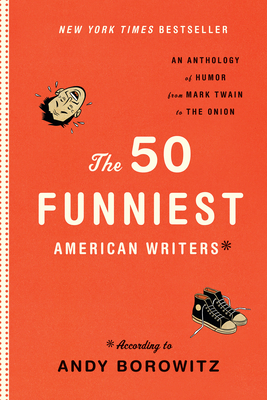 The 50 Funniest American Writers
Library of America, Hardcover, 9781598531077, 461pp.
Publication Date: October 13, 2011
* Individual store prices may vary.
Buy at Local Store
Enter your zip code below to purchase from an indie close to you.
or
Buy Here
Description
Ever wondered who makes a very funny person laugh? Wonder no more. Brought together in this Library of America collection are America's fifty funniest writers--according to acclaimed writer and comedian Andy Borowitz. Reaching back to Mark Twain and forward to contemporary masters such as David Sedaris, Nora Ephron, Roy Blount Jr., Ian Frazier, Bernie Mac, Wanda Sykes, and George Saunders, The 50 Funniest American Writers* is an exclusive Who's Who of the very best American comic writing. Here are Thurber and Perelman, Lenny Bruce and Bruce Jay Friedman, Garrison Keillor, Dave Barry, and Veronica Geng, plus hilarious lesser-known pieces from The New Yorker, Esquire, The Atlantic, National Lampoon, and The Onion. Who does "one of the funniest people in America" (CBS Sunday Morning) read when he needs a laugh?
About the Author
Andy Borowitz is a writer and a comedian whose work appears in The New Yorker and at his satirical website, BorowitzReport.com, which has millions of readers around the world. The author of six books, he is the first-ever winner of the National Press Club's humor award and a two-time finalist for the Thurber Prize for American Humor. He has been called a "Swiftian satirist" (The Wall Street Journal), and "America's satire king" (The Daily Beast). Contributions by: Mark Twain, George Ade, O. Henry Sinclair Lewis, Anita Loos, Ring Lardner, H. L. Mencken, James Thurber, Dorothy Parker, S. J. Perelman, Langston Hughes, Frank Sullivan, E. B. White, Peter De Vries, Terry Southern, Lenny Bruce, Tom Wolfe, Jean Shepherd, Hunter S. Thompson, Woody Allen, Bruce Jay Friedman, Philip Roth, Nora Ephron, Henry Beard, Michael O'Donoghue, George W. S. Trow, Fran Lebowitz, Charles Portis, Donald Barthelme, Veronica Geng, John Hughes, Mark O'Donnell, Garrison Keillor, Bruce McCall, Molly Ivins, Calvin Trillin, Dave Barry, The Onion, Susan Orlean, Roy Blount Jr., George Carlin, Ian Frazier, David Rakoff, Bernie Mac, David Sedaris, Wanda Sykes, Jack Handey, David Owen, George Saunders, Jenny Allen, Sloane Crosley, Larry Wilmore