Even More Pretty Good Jokes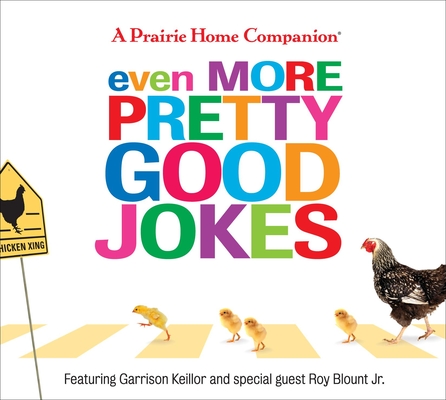 Even More Pretty Good Jokes
Highbridge Company, Compact Disc, Abridged, 9781598878752, 2pp.
Publication Date: April 2009
* Individual store prices may vary.
Shop Local
Enter your zip code below to find indies closest to you.
Description
Even more of a good thing: the latest collection of knee-slappers, toe-tappers, and groaners from "A Prairie Home Companion "Joke Shows.

Did you hear the one about the paranoid dyslexic? He always thought he was following someone. . . . Why did ancient Romans close down the Coliseum? The lions were eating up the prophets. . . .


Jokes are made for sharing, and everyone loves to laugh. This nonstop collection gathers the best jokes from four Joke Shows including the two most recent (3/8/2008 and 11/1/08), all recorded before live audiences at the Fitzgerald Theater in St. Paul. Performers include show regulars Garrison Keillor, Sue Scott, Tim Russell, Tom Keith along with special guests. There's music from the Guy's All-Star Show Band, a Guy Noir sketch, a Ketchup sketch, and an unforgettable performance of The Sound of Chickens, a song that bears an uncanny resemblance to the Simon & Garfunkel classic The Sound of Silence. Except it really is about chickens, and while The Sound of Silence is dead serious, this version is just plain silly. ( And in the naked light I saw/Ten thousand chickens maybe more . )


So it's everything fans want and expect: good jokes, good music, and a pretty darned good time.
About the Author
GARRISON KEILLOR is America s favorite storyteller. For more than 35 years, as the host of "A Prairie Home Companion", he has captivated millions of listeners with his weekly News from Lake Wobegon monologues. "A Prairie Home Companion" is heard on hundreds of public radio stations, as well as America One, the Armed Forces Networks, Sirius Satellite Radio, and via a live audio webcast.Keillor is also the author of several books and a frequent contributor to national publications including "Time, The New Yorker, "and "National Geographic", in addition to writing his own syndicated column. He has been awarded a National Humanities Medal from the National Endowment of the Humanities. When not touring, he resides in St. Paul, Minnesota.

Roy Blount Jr.'s recent books include the memoir "Be Sweet" and "Roy Blount's Book of Southern Humor".