No B.S. Marketing to the Affluent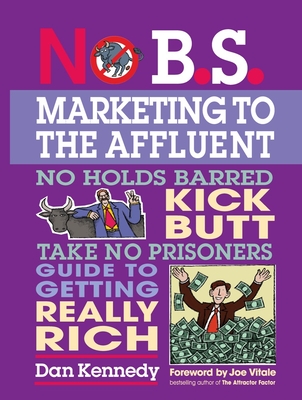 No B.S. Marketing to the Affluent
No Holds Barred, Kick Butt, Take No Prisoners Guide to Getting Really Rich [With CD]
Entrepreneur Press, Paperback, 9781599181813, 428pp.
Publication Date: June 1, 2008
* Individual store prices may vary.
Not Currently Available for Direct Purchase
or
Shop Local
Enter your zip code below to purchase from an indie close to you.
Description
Here it is: no warm n fuzziesjust hard-core strategies from real world trenchesfor successfully repositioning your business, products, services and yourself to attract customers or clients for whom price is NOT a determining factor in their purchasing. The TRUTH is it takes no more work to attract customers/clients from the explosively growing Mass-Affluent, Affluent and Ultra-Affluent populations eager to pay premium prices in return for exceptional expertise, service and experiences. This is the fastest and surest path to prosper in tough times (selling to those least affected by recession) and to get rich in good times Understand the explosive growth of the affluent customer populationwhere there is LESS competition and much MORE profit Practical Strategies Revealed: Lamborghini, Disney, the famous J. Peterman catalogs, Wal-Mart, Starbucks, $2,995 lobsters, Cold Stone Creamery, gourmet pizza, fashion-designer golf bags, and over 50 other fascinating and diverse true-life examples E-FACTORS: 10 surprising Emotional Buy Triggers the affluent find irresistible MILLION-DOLLAR MARKETING SYSTEM: Step-by-step blueprint comparable to those developed for six-figure clients, ready for do-it-yourself use THE MAGIC LANGUAGE OF MEMBERSHIP: applied to any business for the affluentfrom pizza shops and medical practices to retail stores and pet hotels.
About the Author
Dan S. Kennedy is president of Kennedy's Inner Circle, and has been writing sales letters for over twenty years for both large and small businesses. He is also a popular speaker on marketing and sales issues. His popular newsletter, The No B.S. Marketing Letter, reaches thousands of people in the U.S. and Canada while his Web site receives more than 10,000 dedicated visitors a month.
Joe Vitale is President of Hypnotic Marketing, Inc., a marketing consulting firm.His professional clients include the Red Cross, PBS, Children's Memorial Hermann Hospital, and many other small and large businesses. His other books include ""There's a Customer Born Every Minute,"" ""The Attractor Factor,"" and ""Zero Limits,"" all from Wiley. Joe is also a featured contributor to the hit movie and bestselling book, ""The Secret,"" Learn more at www.mrfire.com.
Jillian Coleman Wheeler is a grants and businessconsultant. She is the authorof ""The Other Secrets,"" ""Going Beyond the Law of Attraction,"" and ""The New American Land Rush,"" Her essays havealso been featured in ""Joe Vitale's Life's Missing Instruction Manual"" and ""Meet and Grow Rich,"" For more information, visit www.grantmerich.com.