A Dangerous Woman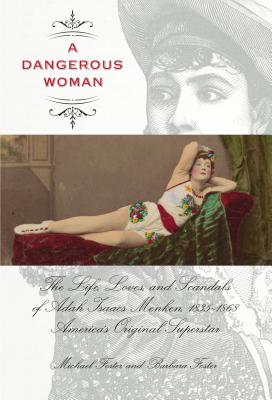 A Dangerous Woman
The Life, Loves, and Scandals of Adah Isaacs Menken, 1835-1868, America's Original Superstar
Lyons Press, Hardcover, 9781599216027, 347pp.
Publication Date: February 1, 2011
* Individual store prices may vary.
Buy at Local Store
Enter your zip code below to purchase from an indie close to you.
or
Not Currently Available for Direct Purchase
Description
The definitive biography of a trailblazing actress who entertained and shocked the nation and the worldMarilyn Monroe might never have become the legend she did without America's original tragic starlet: actress and poet Adah Isaacs Menken (1835 68). In a century remembered for Victorian restraint, Menken's modern flair for action, scandal, and unpopular causes especially that of the Jewish people revolutionized show business. On stage, she was the first actress to bare all. Off stage, she originated the front-page scandal and became the world's most highly paid actress celebrated on Broadway, as well as in San Francisco, London, and Paris. At thirty-three, she mysteriously died. A Dangerous Woman is the first book to tell Menken's fascinating story. Born in New Orleans to a "kept woman of color" and to a father whose identity is debated, Menken eventually moved to the Midwest, where she became an outspoken protege of the rabbi who founded Reform Judaism. In New York City, she became Walt Whitman's disciple. During the Civil War she was arrested as a Confederate agent and became America's first pin-up superstar. Menken married and left five husbands. Ultimately, she paid dearly for success. A major biography of a remarkable woman, A Dangerous Woman is must reading for those interested in women's history, the roots of modern-day American Judaism, and African-American history. Praise for a previous book by Barbara and Michael Foster, Forbidden Journey: The Life of Alexandra David-Neel "Hers was a great human life, very well written up in Forbidden Journey. . . . Surely this biography will provoke even more interest." New York Times Book Review.
About the Author
Michael E. Foster, author of "Recruiting on the Web", is the founder and CEO of AIRS (Advanced Internet Recruitment Strategies), the largest Internet recruitment training company worldwide, and originator of many of the most successful Web recruiting techniques in use today. Since 1997, AIRS has trained more than 30,000 recruiting professionals (from small organizations, to over 60% of the Fortune 500 companies) craft their Internet recruiting strategies.

Barbara Foster has written extensively in women's studies. She is assistant professor in the library department at Hunter College, City University of New York. Michael Foster is the author of "Freedom's Thunder" and other novels.
Praise For A Dangerous Woman…
Praise for A DANGEROUS WOMAN 
The Fosters' skillful narrative biography of nineteenth-century superstar Adah Menken captures the richness and complexity of this Civil War-era Jezebel, an archetypal American bad girl."
 Eve LaPlante, award-winning author of American Jezebel: The Uncommon Life of Anne Hutchinson, the Woman Who Defied the Puritans
 Praise for Adah Isaacs Menken
A magnificent spectacle dazzled my visionthe whole constellation of the Great Menken came flaming out of the heavens." Mark Twain
Adah was the premier sight of the West, the Rockies a very poor second." Life magazine
This is she . . . the world's delight." Algernon Swinburne
She is so lovely she numbs the mind and the senses reel." New York Post
The inspired Deborah of her people." Baron Lionel de Rothschild
Today's Hollywood celebrities have nothing on the glamorous, scandalous, tragic and paradoxical Adah Isaacs Menken." American Jewish Historical Society
Adah Menken was the most remarkable mingling of angel and devil." Napoleon Sarony, the first celebrity photographer
 To Sherlock Holmes she is always the woman. She eclipses and predominates the whole of her sex." Arthur Conan Doyle on Irene Sadler, his character based on Menken
Praise for the Fosters' FORBIDDEN JOURNEY: THE LIFE OF ALEXANDRA DAVID-NEEL and THE SECRET LIVES OF ALEXANDRA DAVID-NEEL
Hers was a great human life, very well written up in Forbidden Journey.'... Surely this biography will provoke even more interest." The New York Times Book Review
A fascinating account of the life and exploits of the brilliant 20th century Frenchwoman who became the first European female to enter the holy city of Lhasa." Harper's Bazaar
Blakean imagery in Alexandra David-Neel's Magic and Mystery in Tibet magnetized me toward Buddhist meditation. Now, her own vast sacred life record is happily accessible." Allen Ginsberg