An Omelette and a Glass of Wine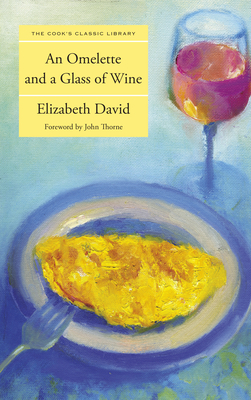 An Omelette and a Glass of Wine
Lyons Press, Paperback, 9781599218601, 368pp.
Publication Date: March 2010
* Individual store prices may vary.
Buy Now
or
Shop Local
Enter your zip code below to purchase from an indie close to you.
Description
Savor her book in a comfortable chair, with a glass of sherry. Bon Appetit Elizabeth David has the intelligence, subtlety, sensuality, courage and creative force of the true artist. Wine and Food The best food writer of her time. Jane Grigson, Times Literary SupplementAn Omelette and a Glass of Wine is a culinary classic by the greatest food writer of the mid-twentieth century, and one of the greatest food writers of any era. This revered volume contains a collection of articles Elizabeth David originally wrote for magazines and newspapers such as the Spectator, Gourmet, Vogue, and the Sunday Times (London). It offers delightful explorations of food and cooking, among which are its namesake essay and other such gems as Syllabubs and Fruit Fools, Sweet Vegetables, Soft Wine, Pleasing Cheeses, and Whisky in the Kitchen. David's many admirers will cherish this new edition, and readers new to her writing will marvel at her wisdom and grace.
About the Author


John Thorne and Matt Lewis Thorne live in Northampton, Massachusetts, where they publish the food letter "Simple Cooking. "Their most recent book, "Pot on the Fire", won a James Beard Foundation Book Award.
Praise For An Omelette and a Glass of Wine…
"Savor her book in a comfortable chair, with a glass of sherry." --Bon Appetit "She has the intelligence, subtlety, sensuality, courage and creative force of the true artist." --Wine and Food
"The best food writer of her time." --Jane Grigson in The Times Literary Supplement