The Big Policeman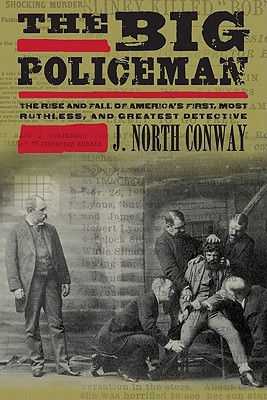 The Big Policeman
The Rise and Fall of America's First, Most Ruthless, and Greatest Detective
Lyons Press, Hardcover, 9781599219653, 336pp.
Publication Date: November 1, 2010
* Individual store prices may vary.
Not Currently Available for Direct Purchase
or
Shop Local
Enter your zip code below to purchase from an indie close to you.
Description
A story bursting at the seams with murder, mayhem, and intrigue--the astonishing career of Thomas Byrnes, the 19th Century New York City detective who closed the city's most notorious murders and robberies; perfected and popularized "the third degree;" and became one of the most celebrated detectives in American history.
About the Author
J. North Conway is the author of nine nonfiction books, including King of Heists: The Sensational Bank Robbery of 1878 That Shocked America (Lyons Press) and American Literacy: Fifty Books That Define Our Culture and Ourselves. He teaches English at Bristol Community College and the University of Massachusetts Darmouth. 
Praise For The Big Policeman…
"Across the sordid tableau of crime, vice, and murder in New York City's Gilded Age, no figure cut so enduring a path as Thomas Byrnes, the city's top cop who used brains and brawn in his then-groundbreaking belief that to catch a criminal, one must think like one. J. North Conway has mined the clues and unraveled the mystery of the man behind the headlines, painting a nuanced portrait of the crusader who pioneered law enforcement's most durable and controversial investigative techniques. Meticulously researched and written like an unusually well-crafted police blotter, The Big Policeman portrays New York's criminal underground and ambitious lawmen as vividly as any TV drama ripped from the headlines."
—Greg Campbell, coauthor of Flawless: Inside the Largest Diamond Heist in
History and author of Blood Diamonds: Tracing the Deadly Path of the World's Most Precious Stones
"A fascinating, fast-moving account of one of the most polarizing and influential figures of 19th-century New York.  Conway brings 'the big policeman' to life."
 —Daniel Stashower, author of The Beautiful Cigar Girl: Mary Rogers, Edgar
Allan Poe, and the Invention of Murder
"A treasure trove of information not only on larger-than-life pioneering detective Thomas Byrnes but also on law-and-order in wide-open nineteenth-century Manhattan."
—David Pietrusza, author of Rothstein: The Life, Times, and Murder of the
Criminal Genius Who Fixed the 1919 World Series
"The subtitle's superlatives refer to Thomas Byrnes, a New York City law enforcer whose career peaked in the 1890s as superintendent of the police force…. Creating period atmosphere by quoting extensively from newspaper accounts of the sensational crimes Byrnes solved, Conway portrays his subject's cleverness and excesses with a flawed-hero flavor that should draw in true-crime fans."
            —Gilbert Taylor, Booklist
Praise for King of Heists: The Sensational Bank Robbery of 1878 That Shocked America
"Engrossing . . . Conway skillfully paints a backdrop of fierce and flamboyant personalities who paraded across the Gilded Age, from Brooklyn Bridge engineer John Roebling to Marm Mandelbaum, 'queen of the criminals.' . . . [H]e capably recounts his story against a background of glitter and greed."
—Publishers Weekly "A page-turning account of one of the most brazen crimes of our time." —Reader's Digest "Conway, a college prof and ex-newspaper man, covers this ancient tale in a way that makes it feel like a hot news story."  - New York Post