The Little Big Book of Comfort Food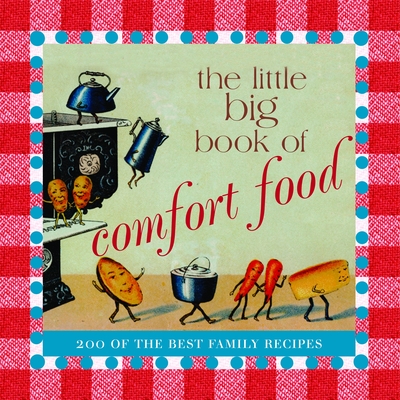 The Little Big Book of Comfort Food
Welcome Books, Hardcover, 9781599620145, 352pp.
Publication Date: September 19, 2006
* Individual store prices may vary.
Buy at Local Store
Enter your zip code below to purchase from an indie close to you.
or
Buy Here
Description
Comfort food makes you feel good, makes you feel at home, and puts you in the frame of mind to curl up on a sofa, in front of a roaring fire, with family, with friends, with a great book. It's what you want when you come in from the cold or when you've got a cold, or when you want to enjoy a cozy evening with loved ones. Welcome's "The Little Big Book of Comfort Food" is crammed with over 200 family recipes. Collecting the best, basic, foolproof, simple-to-make recipes from real kitchens, from real friends and real families was Welcome's objective when publisher, Lena Tabori and her daughters, Senior Editor Katrina Fried and Managing Editor Natasha Tabori Fried, set out to make this book. In the belief that comfort food is, by its very nature, food that has passed down through generations, it seemed appropriate, not to mention charming, to illustrate these tried and true recipes with cozy vintage art.
A great giftbook, the recipes will include the Best of:
Breakfast: Apple Pancakes with Cider Syrup, Corned Beef Hash, Waffles, Scrambled Eggs. Breakfast Burritos and warm Popovers with Strawberry Butter.
Lunch and Snacks: Creamy Tomato Soup, Grilled Cheese Sandwich, Potato Leek Soup, Sloppy Joes, Hamburgers, Matzo Ball Soup and Chicken Finger.
Cookies, Sweets, and Snacks: Pumpkin Bars, Sugar Cookies, Nana's Buttery Scones, and Chocolate Fudge.
Dinner: Macaroni and Cheese, Chicken Parmesan, Pork Chops with Apple Sauce, Southern Fried Chicken, Chili and Corn Bread, Meatloaf and Twice Baked Potatoes.
Sides Garlic Bread, Creamed Spinach, Mashed Potatoes, and Roasted Vegetables
Beverages: Hot chocolate with peppermint whipped cream, chocolate malt, homemade lemonade, root beer, smoothies and Hot Toddies.
Desserts: Cranberry Apple Crisp, Classic Rice Pudding, Chocolate Layer Cake, Strawberry Shortcake, Lemon squares and Banana Cream Pie.
Holiday Meals: Honey Baked Ham, Maple-Roasted Acorn Squash, Roast Turkey with Giblet Gravy, Mashed Potatoes, Mulled Cider, and Pumpkin Pie.
About the Author
Katrina Fried has edited, written, and produced numerous titles, including The Little Big Book of Pregnancy & The Little Big Book Of Animals (Welcome Book), The Wedding Planner (STC), For Love Of Angels (Andrews McMeel), The Road To Rome (Welcome Books), and New York New York (Rizzoli).
Lena Tabori has conceived and edited numerous books including, A Day in the Life of Hollywood (Collins), Kisses (Turner), Our Christmas Book (Simon & Schuster), The Norman Rockwell Counting Book (Crown), Love: A Celebration In Art and Literature (STC), and The Little Big Book For Moms (Welcome Books).
Lena Tabori is publisher, director, and founder of Welcome Enterprises, Inc., a publishing and packaging company based in New York and San Francisco.
She has spent her professional life in publishing, beginning at Harry N. Abrams in 1967, which she later left to create Welcome and to cofound Stewart, Tabori & Chang, a publishing company. Love is an enduring subject for Tabori, who has previously edited Kisses, published by Turner Publishing, in 1991, and Love: A Celebration in Art and Literature with Jane Lahr for STC in 1982.
Lena Taborilives in San Francisco and New York City with her significant other, Frank.
Natasha Tabori Fried is managing editor at Welcome Enterprises. She was formerly an associate producerat the MacNeil/Lehrer NewsHour andFox News Channel.