The Little Big Book of Love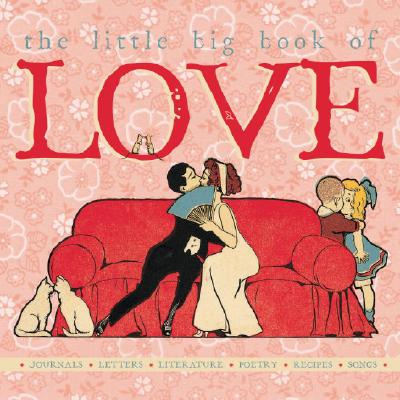 The Little Big Book of Love
Welcome Books, Hardcover, 9781599620527, 351pp.
Publication Date: October 21, 2008
* Individual store prices may vary.
Shop Local
Enter your zip code below to find indies closest to you.
Description
"The Little Big Book of Love "is the most adorable, chunky, ramance-packed valentine there is. Now back in print with an updated jacket design and additional content, this anthology of love and romance is so complete, timeless, and delightful, and is designed in the beautiful and playful format of the much-loved Little Big book series. This great big resource comes in a tiny package and is chock-full of the best of everything, including:
- Stories and excerpts from novels and plays by such favorite authors as Jane Austen, e. e. cummings, D. H. Lawrence, and William Shakespeare
- Love letters of famous historical couples such as Winston and Clementine Churchill, Napoleon and Josephine, And Elizabeth Barrett and Robert Browning
- Love poems by such renowned poets as Lord Byron, Robert Frost, William Butler Yeats, and Maya Angelou
- Recipes for aphrodisiac menus and treats to share with the one you love--including a Forgiveness Breakfast, Chocolate Truffles, and Luscious Lemon Hearts
- Lyrics to some of the greatest love songs of our time, from Cole Porter's "I've Got You Under My Skin'' to Johnny Mercer's "Something's Gotta Give''
Lavishly illustrated with more than 200 nineteenth- and early-twentieth-century illustrations, this charming book will remind you of the simplicity, integrity, and importance of love.
About the Author
Lena Tabori is publisher, director, and founder of Welcome Enterprises, Inc., a publishing and packaging company based in New York and San Francisco.
She has spent her professional life in publishing, beginning at Harry N. Abrams in 1967, which she later left to create Welcome and to cofound Stewart, Tabori & Chang, a publishing company. Love is an enduring subject for Tabori, who has previously edited Kisses, published by Turner Publishing, in 1991, and Love: A Celebration in Art and Literature with Jane Lahr for STC in 1982.
Lena Taborilives in San Francisco and New York City with her significant other, Frank.
Natasha Tabori Fried is managing editor at Welcome Enterprises. She was formerly an associate producerat the MacNeil/Lehrer NewsHour andFox News Channel.
Fried is managing editor at Welcome Enterprises.
Christopher Measom writes frequently about travel. When not on the road he can be found in lower Manhattan editing books ("Kinsey") and writing ("The Little Big Book of Laughter"). He is currently studying with choreographer Pooja Narang in preparation for work on (and to write about) the upcoming Bollywood musical, "Marigold," which begins production as soon as the monsoons subside.
Timothy Shaner has created everything from direct response mail to packaging to film titles. Most recently his specialty is books, designing more than fifty ranging from the ridiculous ("The Little Big Book of Pooh") to the sublime ("Horst Interiors"). Having had a hand in both graphic design and sex for many years, he thought it would be interesting to combine the two.