The Big Book for Toddlers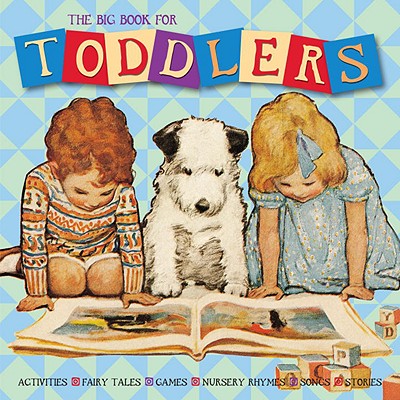 The Big Book for Toddlers
Welcome Books, Hardcover, 9781599620718, 219pp.
Publication Date: September 22, 2009
* Individual store prices may vary.
Shop Local
Enter your zip code below to find indies closest to you.
Description
For all the toddlers of the world, here is one special book celebrating the wonder of youth and filled with classic material guaranteed to occupy, fascinate, and delight. Included are fairytales, activities, songs, games, and nursery rhymes. Designed with vintage illustrations that are as timeless as the book's contents, "The Big Book for Toddlers" is destined to become a well-thumbed favorite in no time.
"The Big Book for Toddlers" will include:
Activities & Crafts
15 Activities and Crafts to entertain your toddler, including Christmas Decorations, Easter Bunny Eggs, Leaf Rubbings, Mouth Puppets, Noisemakers, Starry-Night Snow Globe, and Tiny Boats
Fairytales
15 Classic Fairytales to read, including: "The Boy Who Cried Wolf," "The Cat and the Fiddle," "Chicken Little," "Goldilocks and the Three Bears," "Little Red Riding Hood," "Puss in Boots," "The Three Little Pigs," and "The Ugly Duckling"
Games
15 Old-Fashioned and Finger Games to play with your toddler, including: Five Little Monkeys, Duck, Duck, Goose, Here is the Church, I'm a Little Teapot, Leap Frog, Shadow Puppets, and Simon Says
Nursery Rhymes
15 Nursery Rhymes, including: Humpty Dumpty, Jack and Jill, Little Miss Muffet, Old King Cole, Old Mother Hubbard, One, Two, Buckle My Shoe, and Goosey, Goosey, Gander
Songs
17 songs with sheet music, including: "A-Tisket, A-Tasket," "If You're Happy," "Little Bunny Foo Foo," "Mulberry Bush," "Old MacDonald," "Rain, Rain, Go Away," "Skip to My Lou," "Twinkle, Twinkle Little Star"
And much, much more.
About the Author
ALICE WONG is a project director at Welcome Books. She has produced or edited numerous titles, including The Little Big Book for Moms and The Little Big Book for Grandmothers. She has three daughters, and lives in New York City.
Lena Tabori is publisher, director, and founder of Welcome Enterprises, Inc., a publishing and packaging company based in New York and San Francisco.
She has spent her professional life in publishing, beginning at Harry N. Abrams in 1967, which she later left to create Welcome and to cofound Stewart, Tabori & Chang, a publishing company. Love is an enduring subject for Tabori, who has previously edited Kisses, published by Turner Publishing, in 1991, and Love: A Celebration in Art and Literature with Jane Lahr for STC in 1982.
Lena Taborilives in San Francisco and New York City with her significant other, Frank.
Natasha Tabori Fried is managing editor at Welcome Enterprises. She was formerly an associate producerat the MacNeil/Lehrer NewsHour andFox News Channel.
Praise For The Big Book for Toddlers…
"Full-bleed vintage illustrations by Jesse Wilcox-Smith, Maxfield Parrish, Margaret Evans Price and others grace the pages of this cheerful 9"x9" hardcover book, divided into five sections: arts and crafts activities, condensed fairy tales, songs, games, and nursery rhymes.  The projects are simple and have buoyant instructions (steps to make 'Animal Masks' suggest, 'Add some hairs if you are a mammal, scales if you are feeling reptilian, or feathers to fluff in the birdbath'); songs such as 'Old MacDonald' and 'Ants Go Marching' include musical notation; and familiar stories and rhymes appear as well.  The lively assemblage will appeal to toddlers, and the heirloom images should captivate them as well as nostalgic adults."
-Publishers Weekly

"A treasure trove of games, activities, songs, rhymes, stories and more that toddlers will adore.  All the well-loved classics of childhooh are given pride of places, along with fabulous cintage children's illustrations in gently muted, textured colors that add to the nostalgic appeal...a great resource for preschool staff and teachers, libraries, and parents and schools as well.  Children will love the beautiful pictures that heavily stud the whole book.  Great editorial selection of literature, ideas and illustrations are presented beautifully to children and adults."
-MBR Bookwatch