Chills and Thrills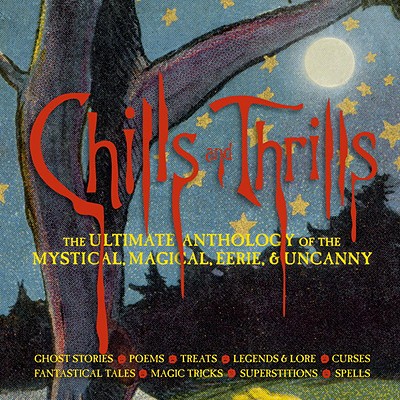 Chills and Thrills
The Ultimate Anthology of the Mystical, Magical, Eerie, & Uncanny
Welcome Books, Paperback, 9781599620862, 223pp.
Publication Date: August 31, 2010
* Individual store prices may vary.
Buy Now
or
Shop Local
Enter your zip code below to purchase from an indie close to you.
Description
While there have been collections of ghost stories and fantasy tales before "Chills and Thrills," none have so completely combined all the frightening and magical elements that have enchanted and spooked children for generations. Filled with scary stories, poems, spells, superstitions, and even recipes, and fabulously designed with vintage art and illustrations, "Chills and Thrills" will provide many nights of creeps and shivers that will last well beyond Halloween Eve. Included in this hauntingly fun book are:
- Ghost Stories: Including such classics as "The Legend of Sleepy Hollow," "The Monkey's Paw," and "The Judge's House."
- Tales of Magic and Fantasy: From classics by H.G. Wells, Mark Twain, and Mary Shelley.
- Poems: Including Edgar Allen Poe's "The Raven," and the Witches' Chant from Shakespeare's "Macbeth."
- Spells: For kids and grown-ups alike to try at home, "Abracadabra"
- Curses: gone unexplained for centuries, discover the truth behind curses such as the Burton Agnes Skull and the Tower of London.
- Superstitions, Legends, and Lore: Helpful advice and history on such mystical items as mirrors and candles, as well as the meaning behind All Hallow's Eve, the Jack-o-Lantern, the Banshee, and the legends of Harry Houdini and Merlin.
- Magic Tricks: Complete with instructional illustrations, perform amazing feats like how to make someone float on air and how to read an invisible message.
- Treats: Guaranteed to bring ghosts, witches, and wizards to the table, recipes include Graveyard Brownies, Eyeball Cookies, and a Witches' Brew.
About the Author
Lena Tabori is publisher, director, and founder of Welcome Enterprises, Inc., a publishing and packaging company based in New York and San Francisco.
She has spent her professional life in publishing, beginning at Harry N. Abrams in 1967, which she later left to create Welcome and to cofound Stewart, Tabori & Chang, a publishing company. Love is an enduring subject for Tabori, who has previously edited Kisses, published by Turner Publishing, in 1991, and Love: A Celebration in Art and Literature with Jane Lahr for STC in 1982.
Lena Taborilives in San Francisco and New York City with her significant other, Frank.
Natasha Tabori Fried is managing editor at Welcome Enterprises. She was formerly an associate producerat the MacNeil/Lehrer NewsHour andFox News Channel.
Christopher Measom writes frequently about travel. When not on the road he can be found in lower Manhattan editing books ("Kinsey") and writing ("The Little Big Book of Laughter"). He is currently studying with choreographer Pooja Narang in preparation for work on (and to write about) the upcoming Bollywood musical, "Marigold," which begins production as soon as the monsoons subside.
Timothy Shaner has created everything from direct response mail to packaging to film titles. Most recently his specialty is books, designing more than fifty ranging from the ridiculous ("The Little Big Book of Pooh") to the sublime ("Horst Interiors"). Having had a hand in both graphic design and sex for many years, he thought it would be interesting to combine the two.
Praise For Chills and Thrills…
"An indispensable guide to all things scary, superstitious and spine-tingling! Overflowing with curses, spells,tales of magic and fantasy, magic tricks and more, Chills and Thrills is a creepy compendium you'll feel compelled to keep on your bedside or coffee table. Whether you seek a classic poem like Edgar Allen Poe's The Raven or a recipe for roasted pumpkin seeds, it's included here."
-LA Parent