Primal Cuts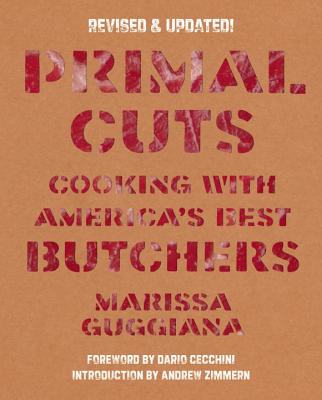 Primal Cuts
Cooking with America's Best Butchers
Welcome Books, Hardcover, 9781599621159, 287pp.
Publication Date: September 18, 2012
* Individual store prices may vary.
Buy at Local Store
Enter your zip code below to purchase from an indie close to you.
or
Not Currently Available for Direct Purchase
Description
Butchery was nearly a dead art, until a recent renaissance turned progressive meat cutters into culinary cult idols. Inspired by a locally driven, nose-to-tail approach to butchery, this new wave of meat mavens is redefining the way we buy and cook our beef, pork, fowl, and game. The momentum of this revived butcher-love has created a carnivorous frenzy, pulling a new generation of home cooks straight into the kitchen--"Primal Cuts: Cooking with America's Best Butchers" is their modern meat bible.
Marissa Guggiana, food activist, writer, and fourth generation meat purveyor traveled the country to discover 50 of our most gifted butchers and share their favorite dishes, personal stories, and cooking techniques. From the Michelin star chef to the small farmer who raises free-range animals--butchers are the guide for this unique visual cookbook, packed with tons of their most prized recipes and good old-fashioned know-how. Readers will learn how to cook conventional and unconventional meat cuts, how to talk to their local butcher, and even how to source and buy their own whole animals for their home freezer. Much more than just a cookbook, "Primal Cuts" is a revealing look into the lives, philosophy, and work of true food artisans, all bound by a common respect for the food they produce and an absolute love for what they do.
"Primal Cuts "includes:
50 Profiles and Portraits of America's Best Butchers
100 Meat Recipes for the Home Cook
Practical Advice on Techniques and Tools
Hundreds of Diagrams, Illustrations, and Photos
Home Butchering How-To
Tons of Trade Secrets
Revised edition includes:
updated profiles
at least 5 new butchers swapped in
at least 10 new recipes
revised sidebars and resource guide.
About the Author
"Marissa Guggiana is a fifth-generation native of Sonoma County and the celebrated author of two culinary books - Primal Cuts and Off the Menu. Growing up in northern California has nurtured her passion for exploring and she is thrilled to share some of her favorite discoveries. A freelance food journalist and co-founder of The Butcher's Guild, Marissa is an ardent advocate for home cooking and sustainability in the food system. In a tiny town (that you just might find in these pages) she owns a yoga studio, where you can find her teaching most days when she isn't writing. "



ANDREW ZIMMERN is a chef, food writer, and teacher, as well as the host of the Travel Channel's hit show, "Bizarre Foods with Andrew Zimmern" and "Bizarre Foods America". Andrew has been a featured guest on various popular national television shows such as NBC's "Today Show", "The Dr. Oz Show", "Access Hollywood", "Nightline", and E!'s "The Soup". Born and raised in New York City, Andrew currently resides in Minnesota with his wife and son.
Praise For Primal Cuts…
Praise for the Revised Edition


"A meaty celebration of the resurgence of American butchers. Guggiana takes a broad interpretation of the term "butcher" with recipes and profiles of manly butchers, farmers, and chefs, along with a few "female meat mavens." Josh Applestone's Horseradish-Crusted Roast Beef is simple and simply delicious. If you're into pig trotters and beef heart, there's offal, too. GIVE THIS TO: People who love to cook or eat the whole beast."
—Julianna Grimes, "The Best Single-Subject Cookbooks," Cooking Light, July 2012
---

Praise for the First Edition

"Just because Marissa's book is important doesn't make it any less fun than taking a break at the family BBQ, tying up your cousin to the nearest ant hill, and basting him with honey. This tome is a collection of superb stories about the men and women who make the meat world go round, with recipes and buckets of undiluted butcher worship thrown in for good measure."
— Andrew Zimmern, host of Bizarre Foods

"A great book for people who want to know where their meat comes from."
— Temple Grandin, author of Animals Make Us Human

"Anyone who laments the disappearance of the craft of butchery as a casualty of the industrial meat system will take heart in the very hopeful message of this book—that a new generation of butchers are restoring time-honored traditions in all corners of the country".
— Paul Bertolli, chef, author of Cooking by Hand

"Marissa's ode to pork, lamb, beef, goat, duck and chicken is a can't-look-away book filled with well-worn recipes, illustrations and unfliching images of raw meat and white-coated butchers. A primal look at the food that fuels us, and a story of where that food comes from in all its carnivorous glory."
— BiteClubEats.com

"[Marissa Guggiana] has delivered the definitive guide to the country's carvers... At 287 pages and roughly as weighty as a rack of lamb, housed in a butcher-paper jacket, the book is full of butcher profiles, recipes, tips, philosophies and information along with hundreds of incredible photos."
— North Bay Bohemian

"Primal Cuts is a book that celebrates butchers...full of straightforward, meat-focused dishes, each accompanied by a story about a member of the new, unexpected generation of American butchers — young, focused on quality and unwilling to compromise."
— Richmond Magazine

"[Primal Cuts] is a can't-look-away book filled with well-worn recipes, illustrations, and unflinching images of raw meat and white-coated butchers, a primal look at the food that fuels us."
—Santa Rosa Press Democrat

"This oversize paean to the many joys of dismembering whole beasts features nose-to-tail recipes from many of the country's new butcher-block rock stars."
— Time Out New York

"Primal Cuts is a celebration of the art of the butcher...While the book covers many common cuts and options, it also explores — and gives recipes for — some lesser-known cuts and under-used animals. You'll learn the primal cuts for lamb, goat and venison in addition to understanding the different "personalities" of steaks (what distinguishes a filet from a strip steak, a rib-eye from flank). The recipes are both informative, and fun."
— Los Angeles Times

"highly recommended...

"Primal Cuts: Cooking with America's Best Butchers offers a focus on locally sourced meats with a survey of techniques and recipes from butchers across America, in effect creating a modern 'bible' packed with the latest meat insights.

Each step is illustrated in a visual cookbook that describes 100 recipes and covers everything from hot dogs to roasted goose and braised rabbit. The butchers themselves receive high profile in this unique presentation, highly recommended for any culinary collection."
— California Book Watch/Midwest Book Review