Forest Born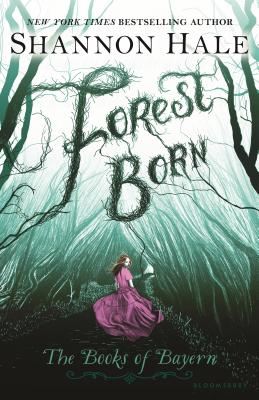 Forest Born
Bloomsbury Publishing PLC, Hardcover, 9781599901671, 389pp.
Publication Date: September 15, 2009
* Individual store prices may vary.
Buy at Local Store
Enter your zip code below to purchase from an indie close to you.
or
Buy Here
Description
Rin is sure that something is wrong with her something really bad. Something that is keeping her from feeling at home in the Forest homestead where she's lived all her life. Something that is keeping her from trusting herself with anyone at all. When her brother Razo returns from the city for a visit, she accompanies him to the palace, hoping that she can find peace away from home. But war has come to Bayern again, and Rin is compelled to join the queen and her closest allies magical girls Rin thinks of as the Fire Sisters as they venture into the Forest toward Kel, the land where someone seems to want them all dead. Many beloved Bayern characters reappear in this story, but it is Rin's own journey of discovering how to balance the good and the bad in herself that drives this compelling adventure.
Once again, Newbery Honor-winning author Shannon Hale brings readers to a world where great friendships, unexpected plot twists, and a little dose of magic make for incredible storytelling.
About the Author
Shannon Hale ("Bouncing the Grinning Goat") began writing at age ten mostly fantasy stories where she was the heroine. She never stopped. She writes bestselling books for kids and adults and also writes graphic novels. Her book Princess Academy was named a Newbery Honor Book in 2006. Shannon lives with her family near Salt Lake City, Utah.
Praise For Forest Born…
"One doesn't need to have read the earlier books to become enraptured by this one, but doing so adds to the richness of these very satisfying tales."—Kirkus Reviews
" Fans of the earlier titles as well as admirers of the genre will find Rin's journey a compelling read."–School Library Journal
"All is told in Hale's assured voice, drawing the details of her invented countries with precision and depth. Strong characters define the series: commanding Isi, passionate Enna, wily Razo, and now shadowed Rin. Newcomers will find this book an easy entry point, and fans will need no excuse to dive back into Hale's fantasy world."—The Horn Book
"Hale has once again exceeded my expectations. Forest Born blew me away from page one, drawing me back into the world of Bayern." – Chick Lit Teens (Online)
"One of the best things about this book is that all of Hale's heroines have a chance to shine... They're feminine, caring, supportive, and yet, when the need arises, fierce and powerful. Yet, put them all together and they are truly forces to be reckoned with. The best parts of the book are when Isi, Enna, and Dasha work together, and then when they realize what Rin has to offer them, they include Rin in their ring of power, where Rin is least comfortable, yet most needed." – Book Nut (Online)