Liar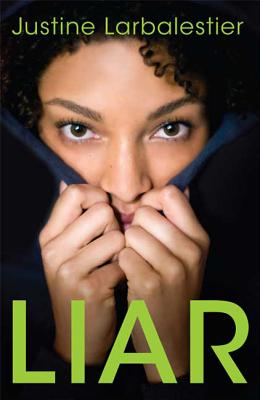 Liar
Bloomsbury Publishing PLC, Hardcover, 9781599903057, 376pp.
Publication Date: September 29, 2009
* Individual store prices may vary.
Shop Local
Enter your zip code below to find indies closest to you.
Description
Micah will freely admit that she's a compulsive liar, but that may be the one honest thing she'll ever tell you. Over the years she's duped her classmates, her teachers, and even her parents, and she's always managed to stay one step ahead of her lies. That is, until her boyfriend dies under brutal circumstances and her dishonesty begins to catch up with her. But is it possible to tell the truth when lying comes as naturally as breathing? Taking readers deep into the psyche of a young woman who will say just about anything to convince them—and herself—that she's finally come clean, Liar is a bone-chilling thriller that will have readers see-sawing between truths and lies right up to the end. Honestly.
About the Author
JUSTINE LARBALESTIER is the author of the award-winning Magic or Madness trilogy. She wishes she had a clothes shopping fairy instead of the procrastination fairy she battles with almost every day. She is married to author Scott Westerfeld and divides her time between Sydney and New York City.
Praise For Liar…
«"Readers will get chills paging through Larbalestier's suspenseful novel about a compulsive liar who becomes a suspect in her boyfriend's murder. Micah admits it is hard to believe a girl who has pretended "she's a boy, a hermaphrodite, or that her daddy's an arms dealer," but when Zach, the popular boy who was secretly seeing her "after hours," is found dead, Micah claims innocence, promising to tell readers her story with "No lies, no omissions." But the supernatural tale she tells may be her wildest yet. Micah composes her story in short sections labeled "Before" and "After" (the murder), as well as "History of Me," "Family History" and other categories. This is a well-paced novel with a masterfully constructed unreliable narrator, confessing to lies she has told readers along the way ("You buy everything, don't you? You make it too easy") and explaining how she makes lies believable. Could Micah really be innocent, or is she a confused girl who killed out of jealousy? Is she even human? Readers will be guessing and theorizing long after they've finished this gripping story." – Publishers Weekly, starred review
«"Micah declares herself a liar and calls her own reliability as a narrator into question on the first page of this dark, gripping page-turner. When Zach, the boy with whom she might or might not be romantically involved, goes missing, Micah tries to tell the story of her tortured relationships with Zach and her classmates, teachers and family. Is Micah a killer? Quite possibly yes, but she weaves lies and truths together so artfully that even as she admits her deceptions, she becomes an increasingly compelling and sympathetic character. Micah's fractured first-person narrative skips around chronologically, further deepening the confusion about what has really happened in her life. The constant reversals keep readers guessing, a plot device that threatens to wear thin by the halfway point of the novel, but Larbalestier moves the plot nimbly past this moment, creating such an engrossing story of teenage life on the margins that even readers familiar with her Magic or Madness trilogy might not see the supernatural twist (or not) coming. In the end, it calls to mind I Am the Cheese with its hermetic wiliness."—Kirkus Reviews, starred review
«"Biracial Micah Wilkins, 17, is the quintessential unreliable narrator. On the first page, she readily admits she's a liar though now she wants to tell her story straight. She attends a progressive private high school in New York City. She's a bit peculiar, with extra-human speed and sense of smell, and has few friends. After another student, a popular senior named Zach, is found brutally murdered, it comes to light that he and Micah had a relationship outside of school. Now she is considered a suspect. Her suspenseful, supernatural tale is engrossing and readers will be tempted to fly through it, though the wise will be wary of her spin and read carefully for subtle slipups and foreshadowing. The chilling story that she spins will have readers' hearts racing as in three sections she goes from "Telling the Truth," to "Telling the True Truth," to "Telling the Actual Real Truth," uncovering previous lies and revealing bizarre occurrences in the process. Micah's narrative is convincing, and in the end readers will delve into the psyche of a troubled teen and decide for themselves the truths and lies. This one is sure to generate discussion."–School Library Journal, starred review
Thursday, Dec 10, 2009
The end of another year means another giant stack of books you missed during the past 12 months. Nancy Pearl, our favorite librarian, stops by to share recommendations that should keep old, young and 'tween readers content. More at NPR.org