Madame Pamplemousse and Her Incredible Edibles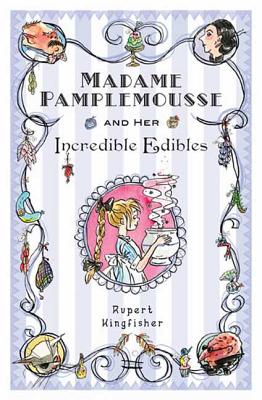 Madame Pamplemousse and Her Incredible Edibles
Bloomsbury USA Childrens, Hardcover, 9781599903064, 144pp.
Publication Date: October 28, 2008
* Individual store prices may vary.
Shop Local
Enter your zip code below to find indies closest to you.
Description
Madeleine must work in her horrible Uncle Lard's restaurant, The Squealing Pig, every summer. Though a fairly good cook herself, Madeleine is only allowed to wash dishes and stay out of the way. But one evening while on an errand for the chef, her luck changes. As she wanders through the streets of Paris, she happens upon a tiny shop. Not just any shop, but "Edibles" owned by Madame Pamplemousse.
When Uncle Lard learns of the extraordinary and delicious ingredients brewing in Madame Pamplemousse's kitchen, he decides to steal her recipes and he'll use his niece to do it. Lucky for Madeleine, Madame Pamplemousse may not be the only chef capable of culinary magic .
About the Author
Rupert Kingfisher studied Philosophy at Bristol University and Play Writing at the Central School of Speech and Drama. He has had plays performed in Dublin, Edinburgh, London and on BBC Radio 4. His favorite authors as a child were Roald Dahl, Susan Cooper and Ursula le Guin. He also loved French cartoon books such as Asterix and Tintin. It was on a family holiday to Paris that he first visited a bookshop dedicated to Tintin, and also ate anchovies for the first time. He says that both experiences were life-changing. Rupert lives in Middlesex. This is his first novel.
Sue Hellard has illustrated many bestselling picture books for children, including Princesses are not Quitters and Milo Mouse and the Scary Monster. Sue lives in London with an Abyssinian cat named Sushi and four guinea pigs named after artists. Her favorite things to eat are Japanese food and olives.