Another Whole Nother Story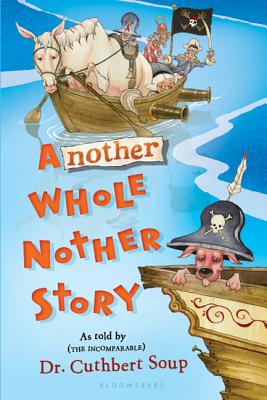 Another Whole Nother Story
Bloomsbury Publishing PLC, Hardcover, 9781599904368, 290pp.
Publication Date: December 7, 2010
* Individual store prices may vary.
Buy at Local Store
Enter your zip code below to purchase from an indie close to you.
or
Buy Here
Description
The plan was simple. Ethan Cheeseman, along with his three smart, polite, and relatively odor-free children, would travel back in time to end an ancient family curse and save their mother. Now that the LVR (a super-secret time machine) is in working order, it should be easy peasy. Except they didn't account for one basic rule of science: Murphy's Law, where everything that possibly could go wrong, does. So the Cheeseman family finds themselves on another madcap adventure, this time through stormy seas and haunted castles. And though their narrator, Dr. Soup, has a ton of unsolicited advice to offer young readers, he doesn't have much to say to help the Cheesemans. Just this one thing: Good luck.
About the Author
CUTHBERT HUBERT EGBERT SOUP was born, at a very young age, to Filbert and Roberta Soup, in Vienna, Austria. As founder, president, and vice president of the National Center for Unsolicited Advice, he has earned millions by making himself so annoying that people pay him to go away. Dr. Soup is currently working on a Broadway musical performed entirely by sock puppets on ice. He lives with his two pet snails, Gooey and Squishy, and his dog, Kevin, who is neither gooey nor squishy. A Whole Nother Story was his first book, and this is his second. He's decided to make it a good one.www.awholenotherbook.com