The Quirks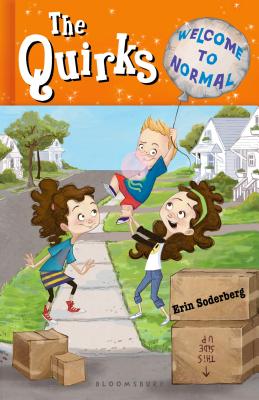 The Quirks
Welcome to Normal
Bloomsbury U.S.A. Children's Books, Hardcover, 9781599907895, 225pp.
Publication Date: June 4, 2013
* Individual store prices may vary.
Buy Now
or
Shop Local
Enter your zip code below to purchase from an indie close to you.
Description
Molly and her family have moved around for years. Every time they think they've found a home, one of the Quirks slips up and sends them packing -- because the Quirk family is a bit, well, "quirky." Each family member has a magical power that makes them unique, and highly unusual.
Mom can control minds; Grandpa twists time; Molly's twin sister Penelope has an all-too-real imagination; and Finn is the pesky kid brother -- who happens to be invisible. Then there's Molly, the most unusual Quirk of all. Molly is completely, utterly normal.
Molly's greatest desire is to fit in, and she's found the perfect spot: Normal, MIchigan. With its cookie cutter houses, welcoming committees, and all-town competitions, it seems like just the place for an ordinary new life. But the Quirks aren't known for fitting in -- especially in a place like Normal...
About the Author
ERIN SODERBERG has written a Candy Apple for Scholastic, some Romantic Comedies for Pulse, and an upcoming edgy YA stand alone. She's also a brand-manager for Nickelodeon. Erin lives in Minneapolis, Minnesota.
Kelly Light lives in New York but grew up down the shore in New Jersey surrounded by giant pink dinosaurs, cotton candy colors, and Skee-Ball sounds. She was schooled on Saturday-morning cartoons and Sunday funny pages. She picked up a pencil, started drawing, and never stopped.
Kelly has illustrated Elvis and the Underdogs and Elvis and the Underdogs: Secrets, Secret Service, and Room Service by Jenny Lee, and the Quirks series by Erin Soderberg. This is her first picture book.