Forbidden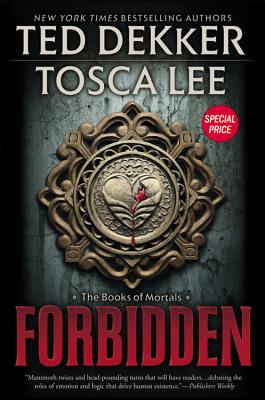 Forbidden
Faithwords, Paperback, 9781599953533, 376pp.
Publication Date: May 1, 2012
* Individual store prices may vary.
Buy at Local Store
Enter your zip code below to purchase from an indie close to you.
or
Buy Here
Description
Fleeing pursuit, with only moments to live, a young man named Rom stumbles into possession of a vial of blood and a piece of cryptic writing. When consumed, the blood will bring him back to life. When decoded, the message will lead him on a perilous journey that will require him to abandon everything he has ever known and awaken humanity to the transforming power of true life and love. But the blood will also resurrect hatred, ambition, and greed at terrible risk.
The first book in a thrilling series set in a desolate future, FORBIDDEN begins a journey that continues with Mortal and will conclude with Soverign. From the combined pens of master storytellers Ted Dekker and Tosca Lee, this tale of passionate love and dark desires peels back the layers of the heart for all who dare to take the journey.
About the Author
Ted Dekker is the New York Times bestselling author of more than twenty novels, including BoneMan's Daughters, Thr3e, and the Circle series.

Tosca Lee is the award-winning, "New York Times" bestselling author of "Iscariot", "The Legend of Sheba", "Demon: A Memoir", "Havah: The Story of Eve", and the Books of Mortals series ("Forbidden", "Mortal", and "Sovereign") with "New York Times" bestseller Ted Dekker. Shereceived her BA in English and International Relations from Smith College. A lifelong adventure traveler, Tosca makes her home in the Midwest with her husband and children. To learn more please visit: ToscaLee.com.
Praise For Forbidden…
Praise for FORBIDDEN:

"True Blue Dekker...mammoth twists and head-pounding turns that will have readers and book clubs debating the roles of emotion and logic that drive human existence."
--- Publishers Weekly

Dekker and Lee have created an intriguing future world...poised on the edge of vast upheaval. [They] draw readers into it and make them eager to read more..."
--- Booklist

"FORBIDDEN: The Books of Mortals rocks with the same level of intensity and brilliance as Dekker's Circle Series. Riveting, resounding, and a magnificent blend of Dekker's and Lee's styles. I devoured FORBIDDEN."
--- James L. Rubart, bestselling author



Praise for THE PRIEST'S GRAVEYARD:

The Priest's Graveyard by Ted Dekker is an amazing novel, utterly compelling, the story of an abandoned girl and a strange, vengeful priest whose paths eventually cross-with terrifying consequences. Intensely readable, well written, and completely original.
--Douglas Preston, co-creator of the famed Pendergast series of novels




"The Priest's Graveyard is a thrill-a-minute ride, with heart-pounding action and a twist that you'll never see coming."
-- Tess Gerritsen, New York Times bestselling author of Ice Cold

"Here's the best part about The Priest's Graveyard: It's smart enough to realize that, for many, the scariest thing in life isn't a monster or something that bumps in the night. It's love. Love is terrifying. And powerful. And unstoppable. And if you don't already know that, you're about to see why. The Priest's Graveyard will haunt you -- long after you want it to."
-- Brad Meltzer, #1 New York Times bestselling author of The Book of Fate and The Inner Circle

"If you've never visited Ted Dekker's world, do it. The Priest's Graveyard is perfect entertainment. Beguiling, compelling, challenging, and riveting--fantastic gimmick-free storytelling--that's what you get with Ted Dekker. Don't pass this up."
-- Steve Berry, New York Times Bestselling Author of The Emperor's Tomb


Rave endorsements for BONEMAN'S DAUGHTERS:

"Ted Dekker is a true master of thrillers, and this is his best." - Nelson DeMille

"It doesn't just get under your skin. It crawls there, nests, and raises its head with a bitter tug, as if it's living within you." - Brad Meltzer

"...a tour-de-force of suspense that demands to be read in one sitting." - James Rollins