How to Draw Steampunk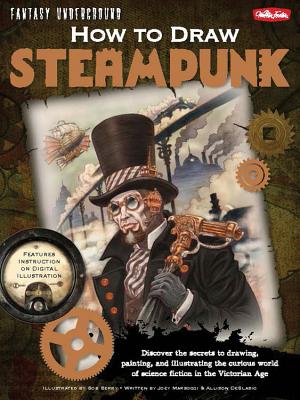 How to Draw Steampunk
Discover the Secrets to Drawing, Painting, and Illustrating the Curious World of Science Fiction in the Victorian Age
Walter Foster Publishing, Paperback, 9781600582400, 128pp.
Publication Date: November 1, 2011
* Individual store prices may vary.
Buy at Local Store
Enter your zip code below to purchase from an indie close to you.
or
Buy Here
Description
Enter into a world where fashion is Victorian punk, technology hasn't surpassed the steam engine, and inventors' workshops are filled with bizarre gadgets and contraptions that you haven't imagined in your wildest dreams. This is the world of steampunk; a world that has fueled a growing subculture and is making its presence known in mainstream media. From a crafty villain and steampunk laden woman to a steam-powered pet and a flying galleon complete with sails and propellers, talented illustrator Bob Berry takes readers through the process of drawing, painting, and digitally illustrating the marvelous players and elements of the steampunk genre. As aspiring artists learn how to create steam-powered machines and gadget-toting characters, Joey Marsocci and Allison DeBlasio of Dr. Grymm Laboratories explain the history and origin of steampunk, its cultural relevance, and other interesting facts about real-life steampunk machines and their makers.
About the Author
Bob Berry has been an artist, illustrator, and character and graphic designer for more than 15 years. While the mainstay of Bob Berry's work is for children's publishing and textbooks, Bob has also provided art and illustration for CDs, children's games, toy packaging, and more. Visit bobberryillustration.com.Joey Marsocci (Dr. Grymm) and his wife Allison DeBlasio (Mrs. Grymm) own Dr. Grymm Laboratories, a custom prop fabrication and fine art business based in Connecticut. They plan an annual Steampunk art exhibit called the Steampunk Bizarre which was hosted at Mark Twain House and Museum in the winter of 2012. Dr. Grymm has also appeared on the PBS OffBook series and the BBC America World Wide news speaking about his Steampunk Artwork. They live in Middletown, CT and have two children who both love costumes and props already! Visit them online at http: //www.drgrymmlaboratories.net.Allison DeBlasio (Mrs. Grymm) and her husband Joey Marsocci (Dr. Grymm) own Dr. Grymm Laboratories, a custom prop fabrication and fine art business based in Connecticut. They plan an annual Steampunk art exhibit called the Steampunk Bizarre which was hosted at Mark Twain House and Museum in the winter of 2012. They live in Middletown, CT and have two children who both love costumes and props already! Visit them online at http: //www.drgrymmlaboratories.ne
Praise For How to Draw Steampunk…
Steampunk, once a little-known subcultural phenomenon, has gained popularity. After a brief discussion of the origins and influences of steampunk, husband and wife Marsocci and DeBlasio—who design steampunk props for films—and artist Berry provide background on basic tools and techniques, then go on to present exercises in steampunk-themed drawing, painting, and illustration. These projects increase in complexity over the course of the book, including some digital tools along the way. This title will appeal especially to young adult readers. - Library Journal