The Art of Painting Landscapes, Seascapes, and Skyscapes in Oil & Acrylic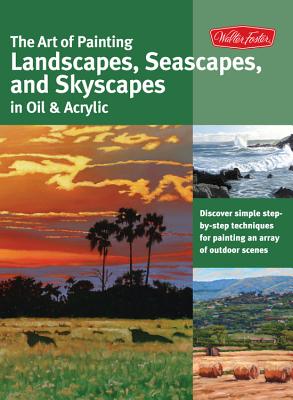 The Art of Painting Landscapes, Seascapes, and Skyscapes in Oil & Acrylic
Walter Foster Publishing, Paperback, 9781600583018, 144pp.
Publication Date: July 30, 2012
* Individual store prices may vary.
Buy at Local Store
Enter your zip code below to purchase from an indie close to you.
or
Buy Here
Description
This inspiring book combines projects from some of our most popular How to Draw and Paint titles into one comprehensive guide to creating an array of outdoor scenes in a variety of painting styles. This beautiful, full-color reference book delves into essential information about acrylic and oil painting tools and techniques, and it contains a wide variety of step-by-step painting lessons, featuring a range of landscapes, seascapes, and skyscapes.
About the Author
Martin Clarke is fascinated by water. A native Australian, he has spent most of that time surfing, swimming, and soaking up his muse: the ocean. Although Martin came to painting late in life, he is driven by a constant strive to make each piece his best. When asked where his inspiration comes from, he talks of the beach on an early summermorning: "how the surf pounds the sandy shore's back, how the sun glistens off towering wave faces, and the sea spray catches light, sparkling like diamonds."Based in Mandurah, Western Australia, Martin is surrounded by the Indian Ocean, the Peel Harvey Estuary, and the Dawesville Cut.Anita Hampton's (Arizona) work is featured in exhibitions across the U.S. and Europe. She teaches workshops at the Scottsdale Art School in Arizona.Michael Obermeyer's (Laguna Beach, CA) paintings are on display at the Smithsonian Institute, U.S. Air Force Historical Art Collection, and the Pentagon.Kevin Short (Capistrano Beach, CA) studied painting at the University of New Mexico and Pepperdine University at Malibu.Alan Sonneman's (Palo Alto, CA) murals are featured at the Riverside Hall of Justice in Riverside, California, and the Biltmore Hotel in Los Angeles, California.Tom Swimm has felt an instinctive need to paint since his early childhood. Although he is self-taught, he has long been inspired by the work of Van Gogh, Monet, and Hopper, and he considers these masters his teachers. Tom's first one-man exhibition was at the Pacific Edge Gallery in Laguna Beach, California. His work has also been displayed in several other California galleries, at ArtExpo New York, and at the APPAF Exhibition in Paris, France. His paintings have also appeared on the cover of Skyward Marketing's in-flight magazine in 2001, as well as on the cover of Artist's Magazine in 1992. And Tom's work is currently featured in several Walter Foster Publishing titles