All about Drawing Wild Animals & Exotic Creatures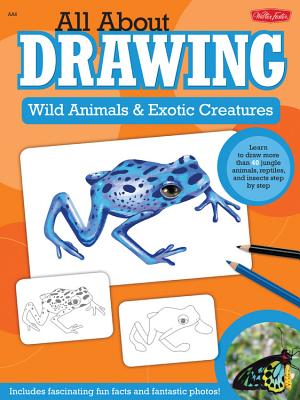 All about Drawing Wild Animals & Exotic Creatures
Learn to Draw 40 Jungle Animals, Reptiles, and Insects Step by Step
Walter Foster Jr, Paperback, 9781600583759, 80pp.
Publication Date: March 1, 2014
* Individual store prices may vary.
Buy Now
or
Shop Local
Enter your zip code below to purchase from an indie close to you.
Description
"All About Drawing: Wild Animals & Exotic Creatures" is an adventurous addition to Walter Foster's All About Drawing Series and includes material from the following children's Learn to Draw titles: "Learn to Draw Reptiles & Amphibians," "Learn to Draw Rainforest & Jungle Animals," and "Learn to Draw Insects." Children will enjoy immersing themselves in the animal kingdom, while learning to draw a variety of wild animals and exotic creatures that run the range from small and slow to fast and ferocious. This fun and educational instructional drawing book opens with a quick look at the materials young artists need to get started, as well as warm-up drawing exercises and art tips. Starting with a basic shape, such as a square, a circle, or an oval, children are invited to follow step-by-step instructions for completing each drawing project in simple stages, from initial shape to realistic finished drawing. Young artists will learn to draw some of their favorite wild animals and exotic creatures, including a toucan, galapagos tortoise, king cobra, bearded dragon, gorilla, jaguar, and many more In addition, children will learn fascinating facts about the subjects as they learn to draw them, as well as useful drawing tips to help guide them along the way. With engaging text about each subject, "All About Drawing: Wild Animals & Exotic Creatures" educates and entertains children as they draw for an enjoyable, well-rounded artistic experience. Whether they're nature lovers or simply enjoy animals of all species, young artists will love learning to draw these wild animals and exotic creatures.
About the Author
More than 85 years ago, Walter Foster--a well-known artist, instructor, and collector--began producing art instruction books from his home in Laguna Beach, CA. He originally wrote, illustrated, printed, bound, packaged, shipped, and distributed them himself. Although Walter passed away in 1981 at the age of 90, his legacy continues in a growing product line. Walter Foster Publishing now provides how-to books and kits to millions of enthusiastic artists worldwide who enjoy the rewards of learning how to draw and paint. People who have never before picked up a paintbrush or drawing pencil have discovered their artistic talents through his easy-to-follow instruction books.