How to Draw the Legend of Korra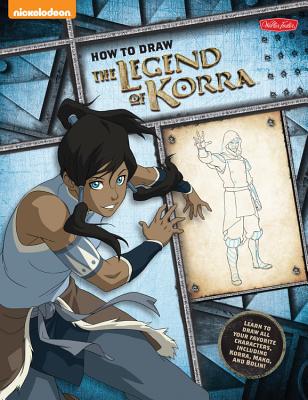 How to Draw the Legend of Korra
Learn to Draw All Your Favorite Characters, Including Korra, Mako, and Bolin!
Walter Foster Publishing, Paperback, 9781600583797, 64pp.
Publication Date: August 15, 2014
* Individual store prices may vary.
Buy Now
or
Shop Local
Enter your zip code below to purchase from an indie close to you.
Description
Out of the Nickelodeon world that created "Avatar: The Last Airbender" comes "The Legend of Korra," a sequel with new adventures and heroes The story begins 70 years after the events of the first Avatar series, following the death of former Avatar Aang. Avatar Korra is the reincarnation of the Avatar, a feisty teenage girl who is ready to prove herself in the world of element bending. With "How to Draw The Legend of Korra," young artists-in-training can learn to bend the elements of art to bring to life their favorite characters - including Avatar Korra, brothers Mako and Bolin, airbending instructor Tenzin, and Amon, the mysterious leader of the anti-bending revolution. After introducing artists to the tools and materials they need to get started, readers are invited to learn a few basic drawing techniques and then warm up by following fun and easy drawing exercises. Then the real fun begins Easy-to-follow, step-by-step instructions begin with simple shapes, demonstrating just how easy it is to draw Korra, her friends, and their world. Each project starts with a basic line or shape, such as a circle or triangle, and then follows several progressive steps, each building on the previous and culminating in a final color drawing. Additionally, each new step is shown in blue so young artists know exactly what to draw next. Along the way, professional illustrators share helpful art tips and tricks. With approachable projects and exciting subject matter, this book will have young artists drawing their favorite "Legend of Korra" characters in no time.
About the Author
More than 85 years ago, Walter Foster--a well-known artist, instructor, and collector--began producing art instruction books from his home in Laguna Beach, CA. He originally wrote, illustrated, printed, bound, packaged, shipped, and distributed them himself. Although Walter passed away in 1981 at the age of 90, his legacy continues in a growing product line. Walter Foster Publishing now provides how-to books and kits to millions of enthusiastic artists worldwide who enjoy the rewards of learning how to draw and paint. People who have never before picked up a paintbrush or drawing pencil have discovered their artistic talents through his easy-to-follow instruction books.