Learn to Draw Almost Naked Animals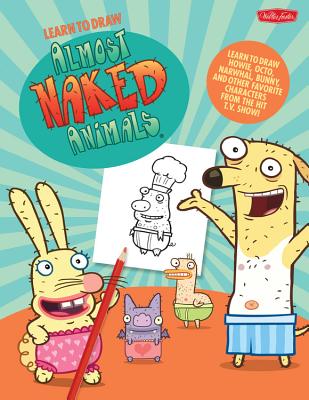 Learn to Draw Almost Naked Animals
Learn to Draw Howie, Octo, Narwhal, Bunny, and Other Favorite Characters from the Hit TV Show!
Walter Foster Publishing, Paperback, 9781600583940, 64pp.
Publication Date: February 1, 2014
* Individual store prices may vary.
Buy Now
or
Shop Local
Enter your zip code below to purchase from an indie close to you.
Description
Almost Naked Animals debuted on Cartoon Network in 2011 and quickly rose to earn a spot as one of the Top 20 shows for boys ages 6+ on the network. Now children everywhere can learn to draw the funny, quirky gang of animal characters just as they appear on TV--"almost naked," with their fur shaven off and clad in only underclothes. In "Learn to Draw Almost Naked Animals," young artists-in-training will recreate the animals in their tropical residence and workplace, an island resort called the Banana Cabana. With easy-to-follow, step-by-step instruction, each character and his unique persona will come to life on the page, whether a pink pig that is a ninjitsu-trained master chef, a yellow rabbit prone to mood swings, or a periwinkle narwhal known for singing and being self-centered. Featured lessons include Howie the Labrador, Octo the Octopus, Bunny the Rabbit, Duck, Piggy, Narhwal, Sloth, and Poodle, among others. Each project begins with a simple shape, such as a square or a circle, with each step building on the previous and progressing to a final piece of artwork. With tips and tricks from professional artists included along the way, children will be designing their own adventures featuring the Banana Cabana and its hilarious Almost Naked inhabitants in no time.