Seeds of Change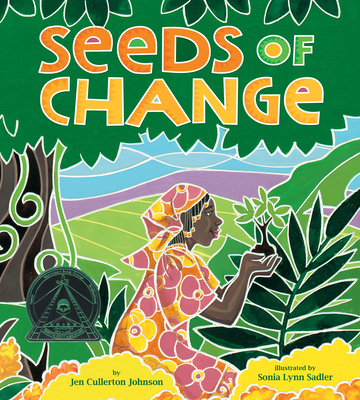 Seeds of Change
Planting a Path to Peace
Lee & Low Books, Hardcover, 9781600603679, 1pp.
Publication Date: April 1, 2010
* Individual store prices may vary.
Buy Now
or
Shop Local
Enter your zip code below to purchase from an indie close to you.
Description
As a young girl in Kenya, Wangari was taught to respect nature. She grew up loving the land, plants, and animals that surrounded her from the giant mugumo trees her people, the Kikuyu, revered to the tiny tadpoles that swam in the river. Although most Kenyan girls were not educated, Wangari, curious and hardworking, was allowed to go to school. There, her mind sprouted like a seed. She excelled at science and went on to study in the United States. After returning home, Wangari blazed a trail across Kenya, using her knowledge and compassion to promote the rights of her countrywomen and to help save the land, one tree at a time.
About the Author
JEN CULLERTON JOHNSON is a writer, educator, and environmentalist with an MFA in Nonfiction Writing and an MEd in Curriculum Development. She has taught in countries all over the world, including Argentina, Ecuador, and Japan. Johnson currently teaches at an inner-city elementary school in Chicago, Illinois, where she also conducts writing workshops. She is inspired by Wangari Maathai's dedication to women and the environment. When Johnson isn't writing or teaching, she enjoys spending time with her family. This is her first picture book.

SONIA LYNN SADLER is a full-time illustrator and fine artist. Growing up with a father in the military, she lived in five different states and traveled to many different countries. Currently splitting time between Maryland and New Jersey, Sadler focuses on artwork exploring the cultures, lives, and stories of peoples of African descent. Her unique style reflects a variety of techniques and mediumsfrom watercolor to scratchboardand draws color and pattern inspiration from quilts.