Desserts 4 Today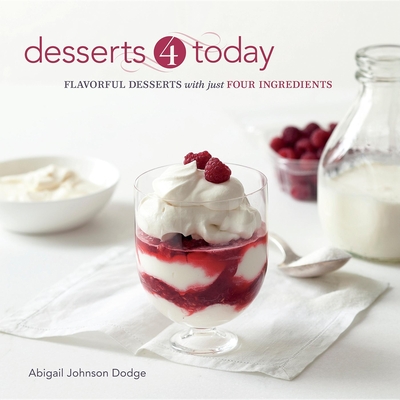 Desserts 4 Today
Flavorful Desserts with Just Four Ingredients
Taunton Press, Paperback, 9781600852947, 187pp.
Publication Date: September 7, 2010
* Individual store prices may vary.
Buy Now
or
Shop Local
Enter your zip code below to purchase from an indie close to you.
Description
Whether you've had a hard day at work, have been on the go all day, or are planning an impromptu get together for friends, nothing will end your day better than something sweet and satisfying. Thanks to baking expert Abigail Johnson Dodge, you can whip up a delicious dessert with just 4 ingredients in about half-hour. The recipes in "Desserts 4 Today" rely on simplicity--no outrageous ingredients, no difficult-to-master techniques, and no hours of prep work. Each of the 125 flavorful desserts uses pantry ingredients, is ready from start to finish in about 30 minutes, and provides flavor variations sure to please any palette and any craving. "Desserts 4 Today" enables cooks of all skill levels to effortlessly create delicious desserts.
About the Author
Abigail Johnson Dodge is a widely respected baking expert, popular food writer, and instructor. Abby studied in Paris at La Varenne and worked in pastry under superstar chefs Michel Guerard and Guy Savoy. Abby is the author of nine cookbooks, including "Mini Treats & Hand-Held Sweets, " "Desserts 4 Today, "and "The Weekend Baker "an IACP Cookbook Award Finalist. Her recipes and articles have appeared in seven dozen cookbooks, publications, blogs, and websites. Abby is a contributing editor to "Fine Cooking "magazine and is also a regular guest on TV and radio. She lives in Connecticut.
Praise For Desserts 4 Today…
"It's hard not to love Dodge's concept. Everyone is looking to simplify and having four fresh ingredients makes all the beautiful desserts in her book seem approachable. Of course, no chef as talented as Dodge (she previously wrote "The Weekend Baker") can stop with just four of anything. So each recipe includes "Switch-Ins," which suggest different flavor pairings. These also include swap-out ingredients in case you don't have, or don't care for, something in the recipe. She also suggests ways to "Gussy It Up." This is a great book for someone who wants to learn to bake. "--The Providence Journal
"First, let's just make this clear: Desserts 4 Today is not the latest Hip Hop group.  It's an ingenious new cookbook by former pastry chef and culinary veteran Abigail Johnson Dodge. The book is divided into 5 easy chapters: Cookies, Creamy Desserts, Frozen Desserts, Fruit Desserts, and Pastries (a number of which conveniently rely on quality store-bought products like frozen puff pastry and phyllo dough.) The hook is that each gem of a recipe contains no more than 4 ingredients. Seriously. Okay, each recipe is followed by numerous variations with headings like, Switch-Ins, Gussy It Up; and Change It Up, but there is really no reason to go there unless you feel like taking that extra step. As written, each of the basic recipes is a perfect study in simplicity and creativity. And you can rest assured your grocery cart will not be overloaded with expensive, esoteric ingredients you may never use again." --Project Foodie
"One might expect a cookbook of four-ingredients-max dessert recipes to rely heavily on convenience ingredients or lots of dressed-up shortbread. But in her latest cookbook "Desserts 4 Today" (Taunton Press, $17.95), pastry chef and baking expert Abigail Johnson Dodge delivers a surprising number of cookies and other sweets made simply and with fresh ingredients." --Newark (NJ) Star-Ledger
 "If you bake frequently, a good number of the recipes won't even require a trip to the store; you probably already have the ingredients on hand. Keep the book close at hand, then, for impromptu visits from friends, or whenever your sweet tooth gets the better of you. Puff pastry is a godsend in the pastry chapter (it's a godsend, period, isn't it?); elsewhere, Dodge calls for pre-made cookies, ice cream or sorbet. But mostly, she leaves it up to chemistry. Coaxing something delicious out of varying combinations of butter, sugar, cream, eggs, flour, chocolate, coconut milk, vanilla and fruit isn't magic, but it's funny how doing so can make you look like a genius." --The Chicago Sun-Times