Blue Planet Run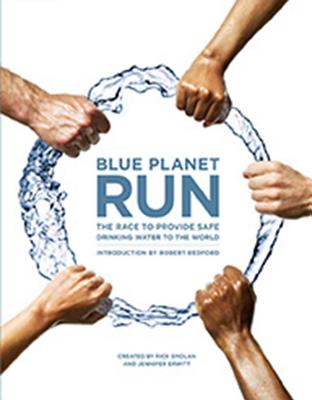 Blue Planet Run
The Race to Provide Safe Drinking Water to the World
Earth Aware Editions, Hardcover, 9781601090171, 239pp.
Publication Date: November 2007
* Individual store prices may vary.
Not Currently Available for Direct Purchase
or
Shop Local
Enter your zip code below to purchase from an indie close to you.
Description
From the creators of the highly acclaimed New York Times best-selling Day in the Life and America 24/7 series, Rick Smolan and Jennifer Erwitt, Blue Planet Run provides readers with a fascinating and thought-provoking look at the water problems facing humanity on every continent, as well as some of the hopeful solutions and courageous water heroes" focused on alleviating this crisis.

The large-format volume features more than 250 photographs by the world's top photojournalists, illustrations by leading infographic artist Nigel Holmes, and provocative essays by Diane Ackerman (A Natural History of the Senses), environmental leaders Paul Hawken and Bill McKibben, journalists Michael Specter and Jeffrey Rothfeder, Emmy Award-winning TV broadcaster Mike Cerre, Michael Malone, of ABC News and inventor Dean Kamen (the Segway scooter). Advisors and staff include Phillip Moffitt, former editor and owner of Esquire magazine and Stephen Petranek, former editor-in-chief of Discover magazine.
Blue Planet Run highlights the vital contributions of nonprofits around the world, including the groundbreaking work of the Blue Planet Run Foundation, which seeks to provide safe drinking water to 200 million people by 2027. The book includes coverage of the 2007 Blue Planet Run, an unprecedented, non-stop, around-the-world relay race designed as a wake-up call to the world. Twenty-one runners, representing 13 countries, began the race on June 1, 2007, at the United Nations and concluded in New York City on September 4, 2007, having circled the Earth in just 95 days while running over 15,000 miles across 16 countries in Europe, Asia and North America.
About the Author
Paul Hawken's bestselling books include Blessed Unrest, Natural Capitalism, and The Next Economy. He has also written dozens of articles, op-eds, and papers concerning the responsibility of business to the natural environment. His writings have appeared in the Harvard Business Review, Inc magazine, the Boston Globe, the Utne Reader, and more than a hundred other publications.

DIANE ACKERMAN has been the finalist for the Pulitzer Prize for Non-Fiction in addition to receiving many other awards and recognitions for her work, which includes the bestselling The Zookeeper s Wife and A Natural History of the Senses.

Jean-Michel Cousteau is president of Ocean Futures Society, which is dedicated to communicating with the public on critical marine issues and helping to activate action partnerships amongst decision makers.
In addition to his work as an actor, director, and producer, Robert Redford has been a noted environmentalist since the early 1970s. His advocacy has covered a wide spectrum of environmental and conservation issues including involvement in the passage of many landmark pieces of environmental legislation, and the preservation of those protections in ensuing years. He has been a trustee of the Natural Resources Defense Council for twenty-six years.
Vicki Goldberg is one of the country's leading photography critics. She is the author of "The Power of Photography: How Photography Changed Our Lives" and "Margaret Bourke-White: A Biography." She writes frequently for the "New York Times" and "Vanity Fair."
Sue Hostetler has traveled the world as a social documentary photographer capturing civil unrest and the delivery of medical aid to wartorn areas such as Rwanda, Chechnya, Azerbaijan, Guatemala, and Cuba. She now works as a photo editor. As well as conceiving and compiling "Oceans," Sue orchestrated the benefit auctions in New York and San Francisco, which will support the NRDC, and that accompany the release of the book. She lives in New York City.

Praise For Blue Planet Run…
From The Flint Journal First Edition
OK, I really hate to admit this, but there's no denying it: Blue Planet Run - The Race to Provide Safe Drinking Water to the World sounds like a noble but dirt-dry text on scholarly environmental issues. It's not just me. In fact, a co-worker walking past my desk took one quick glance at the book's plain white cover, muttered "boring" and kept on walking. But please, don't judge this book by its cover. Trust me on this. Just open the oversized volume to any page at all. You won't want to put it down. Blue Planet Run is a visually stunning tour de force by some of the world's top photojournalists, backed up by thought-provoking essays and profound commentaries on the many ways humanity is confronting the growing lack of a clean and plentiful water supply. The book's collection of more than 250 photographs are at once beautiful and haunting, enlightening and disturbing, inspiring and even, at times, amusing. From the cornfields of Nebraska to an oil-fouled Nigerian port, this group of talented artists and visionaries takes us on an amazing journey around the world. And despite its global scale, it is first and foremost a book about people, in a very intimate and individual sense. You'll meet Kenyan runner Emanuel Kibet; Las Vegas homeowner Joseph Cooper, who's replacing his backyard lawn with artificial turf; Imelda Carreon Valdozino and her mission to test for toxins in Mexico City's water supply. From the anonymous to the famous, young and old, rich and poor, their faces are all our faces, and their challenges belong to us all. Need another incentive? Buying this book isn't just a passive venture into eco-awareness. One hundred percent of the royalties from Blue Planet Run will be used to provide clean water to people around the world who desperately need it. Learning about a problem is the first step toward being part of the solution.