Yoga and Vegetarianism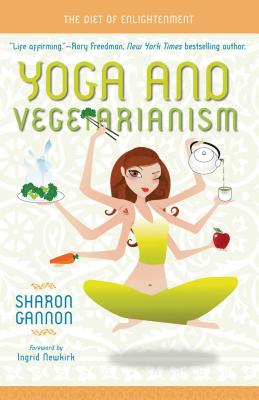 Yoga and Vegetarianism
The Diet of Enlightenment
Mandala Media, Paperback, 9781601090218, 144pp.
Publication Date: November 18, 2008
* Individual store prices may vary.
Buy Now
or
Shop Local
Enter your zip code below to purchase from an indie close to you.
Description
Drawing on both the author's extensive studies of Vedic traditions and her longtime interest in animal rights, Yoga and Vegetarianism shows how the physical and spiritual practice of yoga is historically and structurally tied to a vegetarian lifestyle. When they are used in tandem, she argues, they form a strong framework for physical and spiritual attunement and promote an overall healthy life. Yoga and Vegetarianism emphasizes the importance of understanding of Ahimsa, the practice of non-harming and nonviolence, as the first step in marrying yoga and vegetarianism. All actions, says Gannon, originate as thoughts, so the "perfection of action" that yoga strives for must come from a perfect thought. What is a perfect thought? According to the book, it is a thought free of selfish desire, anger, and hate. This brings us back to Ahimsa and to vegetarianism. Freeing oneself of needless cruelty, harm, and injustice which includes eating meat can transform both the individual and the world. This book shows how.
About the Author
Sharon Gannon is best known for creating, along with David Life, the Jivamukti Yoga Method a path to enlightenment through compassion for all beings. A student of Brahmananda Sarasvati, Swami Nirmalananda, and K. Pattabhi Jois, she is a pioneer in teaching yoga as spiritual activism and is credited for making yoga cool and hip relating ancient teachings of yoga to the modern world. Sharon is a musician and is a featured vocalist on many CDs including "Sharanam", which is her solo album. She has produced numerous yoga-related DVDs and is the author of several books, including "Jivamukti Yoga", "The Art of Yoga", "Cats and Dogs are People Too!", and "Yoga and Vegetarianism". Her writing has appeared in numerous publications, including "Toward 2012", "Arcana V: Music", "Magic and Mysticism", "What Comes After Money", "Semiotexte", "Yoga Journal", and "Origin". She writes a monthly essay called the Focus of the Month. She resides in a 125-acre wild forest sanctuary in upstate New York.
Ingrid Newkirk (Norfolk, VA) is the world-famous dog lover and founder/president of People for the Ethical Treatment of Animals (PETA), the largest animal rights organization in the world. A master of publicity, she has appeared on "Today, Oprah, Nightline, Crossfire, 20/20, " on radio, and in print. A deputy sheriff in Maryland for nearly thirty years, she is also the author of several books and articles on the social implications of our treatment of animals. In 2008, HBO released a documentary of her life titled "I Am an Animal: The Story of Ingrid Newkirk and PETA."
Jane Ratcliffe (Ann Arbor, MI) is a novelist and freelance writer. She has her MFA from Columbia University and currently teaches creative writing.