Sisterchicks in Wooden Shoes!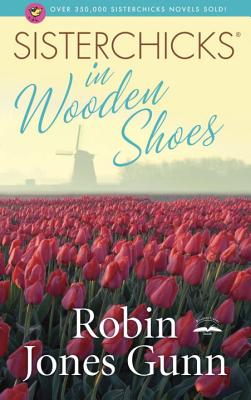 Sisterchicks in Wooden Shoes!
Multnomah Books, Paperback, 9781601420091, 276pp.
Publication Date: May 5, 2009
* Individual store prices may vary.
Buy at Local Store
Enter your zip code below to purchase from an indie close to you.
or
Buy Here
Description
A multi-tasking mama, Summer Finley has found ways to handle whatever life throws at her with grace and a grin. Until now, that is. An abnormal medical test result sends Summer into an emotional tailspin and prompts her to fulfill a life-long dream of meeting her best friend and pen pal since fourth grade, Noelle Van Zandt, face-to-face.
Their blissful week together in the Netherlands finds Summer and Noelle floating down a canal in Amsterdam, visiting Corrie Ten Boom's Hiding Place, sipping decadent Dutch cocoa in Delft, and bobbing merrily along through a sea of brilliant, spring-fresh tulips. Each day takes them further from midlife anxiety and closer to trusting God in deeper ways.
When Summer finally confides in Noelle about the abnormal test results, Summer's honesty prompts Noelle to share a long-held heartache. The two friends find they both needed to be together more than either of them realized. Could it be this adventure was tucked away in God's imagination long before Summer bought her ticket to fly to the land of merry tulips and kalomping wooden shoes?
About the Author
Over the past 25 years Robin has written 82 books with almost 4.5 million copies sold worldwide. To her great delight, Robin s books are doing exactly what she always hoped to do they are traveling around the world and telling people about God s love. She is doing the same. Over the past ten years Robin has been invited to speak at events around the US and Canada as well as in South America, Africa, Europe and Australia.Robin and her husband have two grown children and have been married for 35 years. They live in Hawaii where she continues to write and speak.
Praise For Sisterchicks in Wooden Shoes!…
"Robin makes every reader feel like a sister chick... sit back and enjoy the ride"!
- Karen Kingsbury, America's No. 1 Novelist and Bestselling Author of The Above The Line Series
"Grab your passport and expect to be swept away on another adventure of heart and hope. Robin Gunn's writing is picturesque, like Monet–except she paints with words. It's a story I can't wait to share with my own Sisterchicks!"
–Tricia Goyer, author of Blue Like Play Dough and Every Sunrise

"Sisterchicks in Wooden Shoes will transport readers to the land of tulips, windmills, and Corrie Ten Boom. This delightful story tickles the funny bone while tugging on the heartstrings. Well done, Robin!"
–Janice Thompson, author of Fools Rush In

"A sweet and familiar blend of emotions weave through this story–delight in friendships, courage to face the unknown, and the passion to savor each moment. A page-turner that sings of faith, forgiveness, God's comfort, and security to overcome today's fear and confidence to face our tomorrows."
–Janet Perez Eckles, international speaker and author of Trials of Today, Treasures for Tomorrow

"Robin Jones Gunn once again wrapped life-changing truths in a delightful story of adventure and humor that confirmed that I, like Summer in the story, can do all things through Christ and through the love and support of Sisterchicks in my life."
–Karen O'Connor, author of two best-selling series Gettin' Old Ain't For Wimps and Help, Lord! I'm Having a Senior Moment

"Sisterchicks in Wooden Shoes is much more than another entertaining installment in Robin Jones Gunn's wildly popular series. It's a reminder of what a blessed gift true and lasting friendship is."
–Sharon K. Souza, author of Lying on Sunday

"Sisterchicks in Wooden Shoes is a heartwarming tale of two women whose lives are woven together with the golden thread of friendship. The special bond these Sisterchicks share resonates in our souls as they bestow God's blessings on one another in the midst of life's difficult circumstances. In the beauty of the tulip fields, the wonderful stinky cheese shop, the windmills and canals, Holland comes alive in the pages of this book."
–Virginia Smith, author of Age before Beauty and the Sister-to-Sister Series

"Good nacht! Robin Jones Gunn does it again! Run–don't walk–to get this latest hilarious installment of the Sisterchicks series!"
–Cyndy Salzmann, author of Crime & Clutter and Dying to Decorate

"I want to be a Sisterchick! Robin Jones Gunn writes about every day women with truth, tenderness, heart and soul. Sisterchicks In Wooden Shoes reminded me of the value of friendship, honesty, history, and love while taking me on an adventure. Add this to your collection of Sisterchick books to keep."
–Rachel Hauck, award winning and best selling author of Love Starts with Elle

Praise for The Sisterchicks Series
"Robin has done it again! You and your Sisterchicks will love taking this new adventure together!"
Karen Kingsbury, New York Times best-selling author of Between Sundays and Ever After

"My only complaint about Robin's latest is that now I want to hop a plane to England! But combine a cup of Earl Grey tea and this charming story and you're halfway there. Another delightful tale about women helping women to live their lives to the fullest."
Melody Carlson, author of These Boots Weren't Made for Walking and A Mile in My Flip-Flops

"Funny, touching, and true to life, Sisterchicks Do the Hula! will have you doing the hula (and loving it!) by the last page. Grab your grass skirt, girlfriend–this is one trip you don't want to miss! Robin Jones Gunn is the perfect tour guide for this joy-filled Hawaiian adventure. You'll feel the sand between your toes, taste sweet pineapple juice, see amazing rainbows–all without having to put on a bathing suit! Your travel partners, two turning-forty chicks, will feel like old friends the minute you hit the beach."
Liz Curtis Higgs, best-selling author of Bookends and Mixed Signals

"Get ready for a wild ride through the back streets of Oxford and London's busy underground. Sisterchicks Go Brit! is a joy to read and a delightful reminder that it's never too late in life to take a risk. You'll be cheering as these women dare to follow their hearts and be inspired to revive the dreams lying dormant in your own heart. Thanks, Robin, for treating us to another Sisterchicks adventure full of friendship, faith, and fun."
Melanie Dobson, author of Going for Broke and The Black Cloister

"Sisterchicks in Gondolas is a true delight. The characters shine, and evocative language will make any reader want to visit Venice. Biblical truths are portrayed simply, yet will touch hearts and lives with their realistic application."
Romantic Times magazine

"If you have a keen sense of adventure, you will love exploring the world with Robin Jones Gunn's Sisterchicks series… The author makes sisterhood and friendship into an incredible treasure, and she uses Scripture in a way to challenge, uplift, and encourage the readers. This is an excellent read."
Book Bargains and Previews for Sisterchicks in Gondolas

"Robin Jones Gunn makes traversing midlife seem almost welcoming because she has that rare gift of communicating hope amid trial and inner chaos. Robin has found an effective mode of gently lending some instruction to women who sometimes feel overwrought and undone by life's unexpected curves. Women and older teens will relish Sisterchicks Down Under. Who says growing older can't be fun if you have a friend to share the journey?"
FaithfulReader.com