Shades of Morning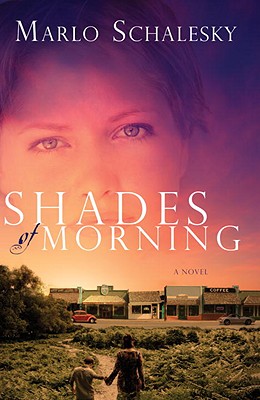 Shades of Morning
Multnomah Books, Paperback, 9781601420251, 338pp.
Publication Date: June 15, 2010
* Individual store prices may vary.
Buy at Local Store
Enter your zip code below to purchase from an indie close to you.
or
Not Currently Available for Direct Purchase
Description
Marnie didn t know much about miracles.
Mistakes maybe. Accidents. And monstrous mess-ups. She knew a lot about those.
But miracles? Those were for other people.
Marnie Wittier has life just where she wants it. Quiet. Peaceful. No drama. A long way away from her past. In the privacy of her home, she fills a box with slips of paper, scribbled with her regrets, sins, and sorrows. But that's nobody else's business. Her bookstore/coffee shop patrons, her employees, her friends from church they all think she's the very model of compassion and kindness.
Then Marnie's past creeps into her present when her estranged sister dies and makes Marnie guardian of her fifteen-year-old son a boy Marnie never knew existed. And when Emmit arrives, she discovers he has Down syndrome and that she's woefully unprepared to care for him. What's worse, she has to deal with Taylor Cole, her sister's attorney, a man Marnie once loved and abandoned.
As Emmit (and Taylor) work their way into her heart, Marnie begins to heal. But when pieces of her dismal past surface again, she must at last face the scripts of paper in her box, all the regrets and sorrows. Can she do it? Or will she run again?
About the Author
Marlo Schalesky is a frequent contributor to Today's Christian Woman and Discipleship Journal, as well as a minister in the Church of the Nazarene. Marlo and her husband live in California.
Praise For Shades of Morning…
Praise for
Shades of Morning

"Will Marnie and Taylor, torn apart sixteen years ago, find a way to overcome, seemingly impossible, barriers and find happiness? Shades of Morning, superbly crafted by veteran author, Marlo Schalesky, presents a sense of family and love that will touch the reader's soul.  The book is a memorable journey into a woman's heart and the lessons she learns about real family loyalty.  Reader, prepare yourself for a surprise ending!"
— Irene Brand, best-selling author of Love Finds You in Valentine, Nebraska and Made for Each Other

"Shades of Morning is magical! Full of the wonder of love, true love. It surprised me on every page. I loved it!"
— Deborah Raney, author of Almost Forever and the Clayburn Novels 

 "Each of Marlo Schalesky's inspirationally unique stories are "like a box of chocolates—you never know what you're gonna get" and Shades of Morning is no exception. From the first page, I fell for the beautifully drawn and flawed characters, and by the end, I wanted to hug them, especially Emmit. What an angel." 
— Tamara Leigh, author of Nowhere, Carolina and Leaving Carolina

"Shades of Morning is a gripping story of grace and forgiveness in the face of years of secrets, half-truths, and running. Yet it is so much more. Marnie and Tyler became people I cared about from the opening pages, yet I wondered how the tangled web of their past could ever unravel to show the promise of a future. And the image of God revealed in the prose speaks to me even now after I've reached the end."
—    Cara C. Putman, author of Cornhusker Dreams and Stars in the Night

"Poignant. Heartfelt. Compelling. This latest novel by Marlo Schalesky is a touching testament to the power of love, forgiveness, and second chances. Shades of Morning is an unusual love story with a twist--and what a twist! You'll love it. But be sure to have a box of tissues close at hand. This would make a great movie! (Are you listening, Hollywood?)"
—    Laura Jensen Walker, author of Becca by the Book and Turning the Paige

"Marlo wrote an engrossing story told with her signature richness and beauty. Her characters lived and breathed -- I connected with them immediately -- even as they displayed the messiness of real life. Shades of Morning will touch your heart and remind you of God's enduring hope, love and redemption. It's a treasure!"
—    Cindy Martinusen Coloma, author of best-selling novel Orchid House and Beautiful