Lady Carliss and the Waters of Moorue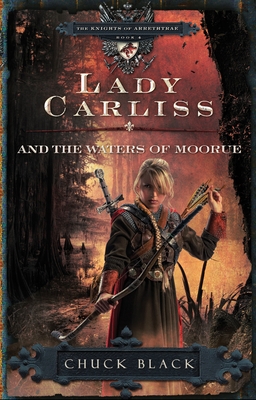 Lady Carliss and the Waters of Moorue
Multnomah Books, Paperback, 9781601421272, 185pp.
Publication Date: March 16, 2010
* Individual store prices may vary.
Shop Local
Enter your zip code below to find indies closest to you.
Description
Lady Carliss faces the challenge of her life. Can she save the kingdom before it's too late?

Determined, smart and a master of both the sword and the bow, Lady Carliss has proven herself as a veteran Knight of the Prince. Returning from a mission of aid, Carliss is plunged into adventure once again as she searches for the marauders responsible for kidnapping a friends' family. Along the way she is reunited with Sir Dalton and discovers that the struggle in her heart is far from over. When Dalton falls to the vicious attack of a mysterious, poisonous creature, Carliss finds herself in a race against time. As Dalton clings perilously to life, she must find the antidote in the distant and strange city of Moorue.
 
While there, Carliss uncovers the master plot of a powerful Shadow Warrior that will soon overtake the entire Kingdom. Her faith in the Prince and her courage as a knight are tested as she faces evil Shadow Warriors and a swamp full of dreadful creatures. The lives of many, including Dalton's, depend on Carliss. But she cannot save them all, for time is running out.  She faces an impossible choice: save Dalton, or let him die so that others may live.
About the Author
Chuck Black spent eight years in the Air Force traveling the world as a communications engineer and an F-16 fighter pilot. He has invented or coinvented eleven patented construction products now being sold internationally. He earned his BS in electrical and electronic engineering from North Dakota State University and today, with his wife, Andrea, is in his thirteenth year homeschooling their six children. The Blacks take their family music ministry on the road, singing Christian gospel, contemporary, and traditional songs. Chuck is enjoying his eighth year teaching adult Sunday school classes at First Baptist Church in Williston, North Dakota.
Praise For Lady Carliss and the Waters of Moorue…
Praise for Lady Carliss and the Waters of Moorue

"Chuck Black is a word crafter who is able to weave Kingdom principles
into the fabric of one's moral imagination. The characters he has created
and the passions they exude will motivate readers to follow their examples,
which have now been etched into their awakened conscience."
—MARK HAMBY, founder and president of Cornerstone
Family Ministries and Lamplighter Publishing

"Chuck Black is the John Bunyan for our times! Chuck Black's writing
energizes and revives my passion to serve our Lord, making me examine
myself so I am ready for His imminent return."
—IACI FLANDERS, Messianic speaker, inductive Bible study
teacher, and homeschool wife and mom

"Chuck Black is a master storyteller."
—JENNIFER IGARASHI, freelance writer, homeschool-resource
reviewer, and mother of an eleven-year-old Kingdom
Series fanatic

"Not since C. S. Lewis's Chronicles of Narnia have any fictional books
boosted my faith so much. They make me cry with joy for what the
King and the Prince do. They let me see our world through new eyes.
The King reigns—and His Son!"
—SOPHIA, an avid reader

"As Christ taught in parables, you can use this powerful allegory to convey
biblical truth, doctrine, virtues, and vices. Combat trained, Chuck
Black makes warfare real without gratuitous violence but rather with a
message of honor. Don't miss the best part: the discussion questions at
the end!"
—ERIC JUDSON TIBBETS, husband, dad, and captain in the
United States Navy


"For a story with nonstop, heart-pounding excitement, you can't get a
better book than one by Chuck Black."
—HEATHER (15), HEIDI (13), HOLLY (10),
and HANNAH (8) SALZMAN