Blue Like Play Dough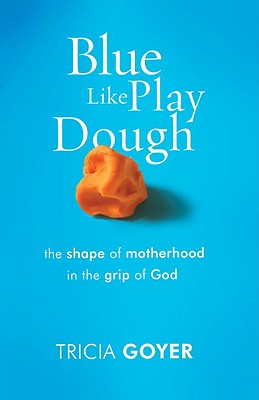 Blue Like Play Dough
The Shape of Motherhood in the Grip of God
Multnomah Books, Paperback, 9781601421524, 197pp.
Publication Date: July 21, 2009
* Individual store prices may vary.
Shop Local
Enter your zip code below to find indies closest to you.
Description
In the everyday stretch and squeeze of motherhood, Tricia Goyer often feels smooshed by the demands of life. In "Blue Like Play Dough," she shares her unlikely journey from rebellious, pregnant teen to busy wife and mom with big dreams of her own. As her story unfolds, Tricia realizes that God has more in store for her than she has ever imagined possible.
Sure, life is messy and beset by doubts. But God keeps showing up in the most unlikely places-in a bowl of carrot soup, the umpteenth reading of "Goodnight Moon," a woe-is me teen drama, or play dough in the hands of a child.
In Tricia's transparent account, you'll find understanding, laughter, and strength for your own story. And in the daily push and pull, you'll learn to recognizes the loving hands of God at work in your life... and know He has something beautiful in mind.
About the Author
USA Today bestselling author Tricia Goyer is the author of more than 40 books, including the novelization for Moms Night Out. She has written over 500 articles for national publications and blogs for high traffic sites like TheBetterMom.com and MomLifeToday.com. Tricia and her husband, John, live in Little Rock, Arkansas, where Tricia coordinates a Teen MOPS (Mothers of Preschoolers) group. They have six children.
Praise For Blue Like Play Dough…
Praise for Blue Like Play Dough

"I couldn't put Blue Like Play Dough down. Tricia's love of God comes through on every page as she shows what motherhood is like when God wields his rolling pin and smoothes the rough edges of her life. Before you know it, your heart will be putty in God's hands, too."
–Ginger Kolbaba, editor, Today's Christian Woman

"With fresh, disarming honesty, Tricia Goyer gives us a glimpse into the challenges of motherhood and womanhood as we know it oh-so-well. She then gently nudges us to remain pliable in the hands of the One who is deliberate in His plans for us.  A surrendered life is a beautiful life. Thanks, Tricia, for giving us an authentic picture of what that sort of life looks like."
–Robin Jones Gunn, best-selling author of the Christy Miller Series and the Sisterchicks series

"A hopeful book that moms will relish, Blue Like Playdough is an honest, peel-back-the-covers look at the creative way God shapes us through childhood and parenthood. Tricia Goyer explores her own weaknesses along the journey, revealing her desire to serve the God who forms strength and joy and perseverance within her. A compelling, fresh read."
–Mary E. DeMuth, author of Authentic Parenting in a Postmodern Culture

"I didn't even know I needed to read this book until I found myself weeping as Tricia's story reached right into my mothering heart. Part memoir and part self-help, Blue Like Play Dough is a must read for every mother who has ever doubted her purpose. An honest, hopeful read that will hearten moms no matter what stage of motherhood they are in."
–Tina Ann Forkner, author of Ruby Among Us and Rose House

"Tricia's story reveals a great truth: that as God uses us to grow our kids, he grows us in the process too."
–Mary Byers, author of Making Work at Home Work and The Mother Load

"The best hostesses make you feel welcome in their home, a part of the family. Likewise, the best authors make you feel welcome as you visit them in the pages of their books. Tricia Goyer does that in Blue Like Play Dough as she invites you to come into her life and hang out with her family, and she doesn't apologize for the messiness of family life. Instead, with refreshing vulnerability and transparency, she shows us all that it's okay to be imperfect in the hands of a God whose love for his own is perfect."
–Nancy Kennedy, author of Girl on a Swing and Lipstick Grace

"Tricia's book is a masterpiece on motherhood–sculpted by her hands–shaped by her love for God."
–Margaret McSweeney, Pearl Girls ™: Encountering Grit, Experiencing Grace

"Blue Like Play Dough had me nodding, laughing, crying, dog-earing favorite pages, and saying, 'Wow, I'm not the only mom who feels that way? I'm not weird?' Honest, gut-wrenching, and funny–this is the kind of book every mom needs to read and keep on her shelf–like a long-time friend–there to walk beside you, drink coffee with you, encourage you. Loved this book!"
–Kimberley Woodhouse, author of Welcome Home: Our Family's Journey to Extreme Joy