Restless in Carolina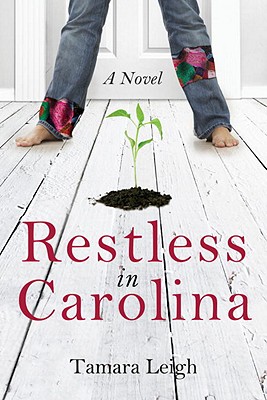 Restless in Carolina
Multnomah Books, Paperback, 9781601421685, 342pp.
Publication Date: July 19, 2011
* Individual store prices may vary.
Not Currently Available for Direct Purchase
or
Shop Local
Enter your zip code below to purchase from an indie close to you.
Description
She's all about going green. Could he be her white knight—or will he make her see red?
 
Tree-huggin', animal-lovin' Bridget Pickwick-Buchanan is on a mission. Well, two. First she has to come to terms with being a widow at thirty-three. After all, it's been four years and even her five-year-old niece and nephew think it's time she shed her widow's weeds. Second, she needs to find a buyer for her family's estate—a Biltmore-inspired mansion surrounded by hundreds of acres of unspoiled forestland. With family obligations forcing the sale, Bridget is determined to find an eco-friendly developer to buy the land, someone who won't turn it into single-family homes or a cheesy theme park.
 
Enter J. C. Dirk, a high-energy developer from Atlanta whose green property developments have earned him national acclaim. When he doesn't return her calls, Bridget decides a personal visit is in order. Unfortunately, J. C. Dirk is neither amused nor interested when she interrupts his meeting—until she mentions her family name. In short order, he finds himself in North Carolina, and Bridget has her white knight—in more ways than one. But there are things Bridget doesn't know about J. C., and it could mean the end of everything she's worked for…and break her heart.
About the Author
Tamara Leigh began writing romance novels to "get the stories out of her head." Over the course of one providential year, she gave birth to her first child, committed her life to Christ, gave up a career in speech pathology, and released her first novel. Her first seven novels earned awards and became national bestsellers, but Tamara was dissatisfied that the stories were not God-honoring. In 2003 she determined to write books that more directly represented her faith. Tamara and her husband, David, live with their two young sons in Tennessee.
Praise For Restless in Carolina…
Praise for Restless in Carolina

"Tamara Leigh has done it again. Restless in Carolina will have you falling in love with its swoon-inducing romance, characters you won't want to leave behind, and message of hope and healing."
—JENNY B. JONES, four-time Carol Award winner and author of Save the Date and Just Between You and Me

"Tamara Leigh is a master storyteller who weaves deep spiritual threads with quirky characters that I love.With Restless in Carolina, she returns to Pickwick, North Carolina, where Bridget has determined that happily ever afters don't exist and God isn't fair. Open the book and be swept into her journey, one filled with laughter, tears, and a large supporting cast that will make it seem like a return to a favorite vacation spot for readers of her other Pickwick books."
—CARA C. PUTMAN, author of Stars in the Night

"Wonderful wry humor, a plot that kept me glued, and delightful, unique characters—what more could a reader ask? Tamara Leigh has given us southern living with down-home charmand thoughtful insights all wrapped up in joy. Highly recommended!"
—GAYLE ROPER, author of Shadows on the Sand and A Rose Revealed

"She's as southern as fried chicken, but Bridget Buchanan is no Scarlett O'Hara. She's spunky, quirky, and determined to save the world from environmental destruction—starting with her own family's estate. This southern gal loves faithfully, grieves deeply, and touches tender places in our hearts. A great story!"
—VIRGINIA SMITH, author of Third Time's a Charm and the Sister-to-Sister Series

"Tamara Leigh creates another of her quirky heroines, Bridget Pickwick Buchanan, in Restless in Carolina. Bridget is sassy and unconventional, a green peg in a brown hole. She meets her match in J. C. Dirk. Don't miss an entertaining read about forgiving past wrongs and even the ones we love who make us crazy."
—LYN COTE, author of Her Abundant Joy