For Couples Only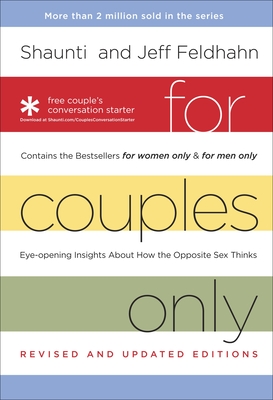 For Couples Only
Eyeopening Insights about How the Opposite Sex Thinks: Contains the Bestsellers "For Women Only" and "For Men Only"
Multnomah Books, Boxed Set, 9781601422484, 380pp.
Publication Date: January 13, 2009
* Individual store prices may vary.
Buy Now
or
Shop Local
Enter your zip code below to purchase from an indie close to you.
Description
Over Two Million Sold
When" For Women Only: What You Need to Know About the Inner Lives of Men" first burst onto the scene, it received rave reviews from women who were shocked but thrilled to discover how men really think. Soon "For Men Only: A Straightforward Guide to the Inner Lives of Women "provided an eyeopening counterpoint, with simple revelations for men
that explained the seemingly mysterious ways of the opposite sex.
Together at Last
Now these classics have been updated with insights from the latest brain research and with additional data. The new editions are brought together in the "For Couples Only" boxed set, providing the perfect resource to help you understand relationship-changing insights about the woman or man in your life.
Each volume is based on input from more than a thousand members of the opposite sex including an unprecedented nationwide survey and hundreds of personal interviews. This innovative approach yields candid and surprising answers that reveal what you don t get about your significant other answers that person deeply wishes you knew. It also produces simple but groundbreaking awareness of how you can best love and support the one you care about most.
So whether you are newly dating or have been married fifty years, get ready to know each other in a whole new way. The adventure is just beginning
About the Author
Shaunti Feldhahn is a popular public speaker, best-selling author, and nationally-syndicated newspaper columnist. She holds a graduate degree from Harvard University, and applies her analytical skills to helping figure out what makes people tick.
She and her husband, Jeff, are well known authors of such books as For Women Only and For Men Only. They are active leaders in their Atlanta-area church and the parents of two children.
Jeff Feldhahn is the president and CEO of World2one, a tech company that he helped found in 1999. Also an attorney, he graduated from Harvard Law School and has worked at law firms in New York and Atlanta specializing in corporate law and nonprofit organizations. Shaunti and Jeff are active leaders in their church and enjoy encouraging married couples toward greater intimacy with God and each other.