Blind Hope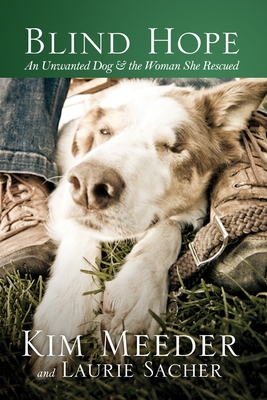 Blind Hope
An Unwanted Dog & the Woman She Rescued
Multnomah Books, Paperback, 9781601422804, 178pp.
Publication Date: July 20, 2010
* Individual store prices may vary.
Buy Now
or
Shop Local
Enter your zip code below to purchase from an indie close to you.
Description
An unwanted dog. An emotional rescue.
Two lives forever changed.
Laurie's dreams had beenshatteredbefore she came to work at Crystal Peaks Youth Ranch the ranch of rescued dreams where broken horses and broken children encounter healing every day. In an attempt to soothe her aching soul, Laurie reached out tosave a dog in need. And shesoon began to realize that the dog was rescuing "her."
An inspiring true story told through the engaging voice of Kim Meeder, "Blind Hope "reveals poignant life lessons Laurie experienced from her ailing, yet courageous canine friend. Despite the blindness of her dog and her own heart Laurie uncovered what she really needed most: authentic love, unconditional trust, and true acceptance, faults and all.
As Laurie and her dog, Mia, both learned to follow the lead of a master they couldn t see, Laurie discovered the transforming power of God's grace even forimperfect and selfish people and she experienced a greater love than she had ever known.
Love is a bridge that stands firm through difficulties and connects one heart directly to another, not because of how it looks, but because of what it "is." --Kim Meeder, "Blind Hope"

About the Author
Kim Meeder is the cofounder and director of Crystal Peaks Youth Ranch, an organization that rescues abused and dying horses and pairs them with children in need. Kim's first book, "Hope Rising," propelled the ranch to win the national Jacqueline Kennedy Onassis Award and launched her extensive public/motivational speaking schedule at schools, churches, and governmental conferences across the United States. She and her husband, Troy, have been married for twenty-five years and live in Central Oregon. The size of their family fluctuates each year with the number of horses and kids that they rescue.


Praise For Blind Hope…
Praise for Blind Hope
 
"Blind Hope is a powerful story, made even more beautiful by the fact that it is not simply a fairy tale. Kim Meeder creatively recalls for us how Laurie Sacher's unique interactions with the dog she saved ended up pointing her back to her Savior. In a
culture obsessed with reality TV, I pray our hearts can not only be entertained and perhaps touched by this true story, but that we would be changed by it."
—ANGELA ALCORN STUMP, co-author of The Ishbane Conspiracy
 
"On her ranch in Oregon, Kim Meeder brings wounded horses and broken kids together and sees healing miracles on a regular basis. Blind Hope, a wonderful analogy of how God sees and loves his children, shows how a blind and ill dog named Mia helped to bring healing, love, and acceptance to the young woman who rescued her. Laurie's statement 'My dog is blind… and now I see' is the story of all of us. This book could change your life."
—LAURAINE SNELLING, author of No Distance Too Far, all the Red River series, and One Perfect Day along with many other novels
 
"I thank God for Kim Meeder—she is one of my heroes! Her passionate love for the Lord, for children of all ages, and for  animals is inspiring. She is thoroughly dedicated to whatever assignment God brings her way, including writing this beautiful account of the special bond between a woman and her dog. Kim brings an ongoing message of hope with this story, and she does it so well."
—DANAE DOBSON, author of Let's Walk the Talk
 
"Skidboot opened my eyes to a lot of life and love. After reading about Laurie and Mia, I learned even deeper lessons that our four-legged friends can teach us. This book shows very clearly how God has used dogs to spread his love. Thank you, Kim and Laurie, for sharing this story."
—DAVID HARTWIG, friend of Skidboot, the world-famous Texas blue heeler, featured in Angel Dogs with a Mission: Divine Messengers in Service to All Life
 
"Kim Meeder takes the reader along on a unforgettable journey with Laurie and her blind dog, Mia. Dog and human bring out the best in each other through hardship and friendship as the bond between the two grows deeper. And the beauty of nature provides the path that Laurie and Mia travel as they experience the ups and downs during teachable moments."
—JOAN DALTON, founder and executive director, Project POOCH
 
"Kim Meeder again shares a touching story of how God continues to use all of creation to move in and through our lives. Blind Hope gives us another glimpse into the amazing animal-human bonds that can bring fullness to our lives and move us to reach out to others, to reach out to hope, joy, and authentic love."
—DANNA L. HARVEY, animal-assisted therapy handler
 
"Poignant and convicting. I was touched by the way Kim told Laurie and Mia's story. I hope I can be as open to hearing the voice of God through unexpected ways."
—DIANE BLOYD KENT, volunteer for Guide Dogs for the Blind
 
"The human-animal bond is a special connection. Kim Meeder highlights this in Blind Hope as she draws parallels between each one of us and our Savior, Jesus Christ. As Kim says, 'To trust, listen, and believe takes time and practice.' She surely knows how to portray an important message of salvation while entertaining and showing life lessons with Laurie and Mia."
—ROXIEMUDDER, volunteer for Guide Dogs for the Blind