Spiritual Misfit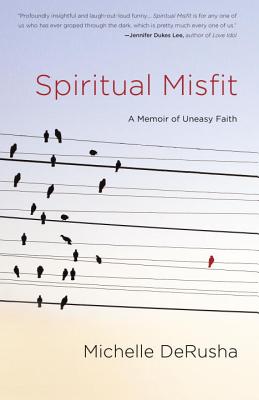 Spiritual Misfit
A Memoir of Uneasy Faith
Convergent Books, Paperback, 9781601425324, 227pp.
Publication Date: April 15, 2014
* Individual store prices may vary.
Buy Now
or
Shop Local
Enter your zip code below to purchase from an indie close to you.
Description
"I decided to admit once and for all that I didn't know what I was doing, what I thought, what I believed, even sometimes if I truly believed. I would tell the truth: I wasn't like them; I didn't fit in. I wasn't a proper Christian. I didn't have it all together like they did. Why not, I figured? What in the world did I have to lose?"
"_____"
After twenty years of unbelief, estranged from her childhood faith and ultimately from God, Michelle DeRusha unexpectedly found herself wrestling hard with questions of spirituality-- and deeply frustrated by the lack of clear answers.
Until she realized that the questions themselves paved a way for faith.
"Declaring my unbelief," writes DeRusha, "was the first step; declaring my unbelief allowed me to begin to seek authentically."
"Spiritual Misfit "chronicles one woman's journey toward an understanding that belief and doubt can coexist. This poignant and startlingly candid memoir reveals how being honest about our questions, our fears, and our discomfort with black-and-white definitions of faith can move us toward an authentic and a deepening relationship with God.
About the Author
Michelle DeRusha writes a monthly column on religion and spirituality for the "Lincoln Journal Star "and is a regular contributor to "The High Calling" and other online journals. She also writes about faith in the everyday on her blog at www.michellederusha.com. She lives with her husband and their two boys in Nebraska.
Praise For Spiritual Misfit…
Praise for Spiritual Misfit

"This book is profoundly insightful and laugh-out-loud funny—the kind of book you carry with you to the kitchen sink and to the laundry room and even to the bathroom, because you can't.stop.reading. World, meet Michelle DeRusha—master storyteller, brilliant writer, spiritual misfit. With candor and humor, Michelle picks up the pieces of her faith story (and her faithless story), then spreads them out on the pages like an offering. This book reveals a loving God who isn't surprised or repelled by our misfit tendencies, but who pulls us closer. Spiritual Misfit is for any one of us who has ever groped through the dark, which is pretty much every one of us."
—Jennifer Dukes Lee, author of Love Idol

"Michelle DeRusha shares an honest and heartfelt personal perspective on the journey of faith. She takes us to the hard places, through the doubts, and brings us to this reassuring truth: sometimes when you're searching for a place to belong, what you really need to discover is how much you've been loved all along."
—Holley Gerth, best-selling author of You're Already Amazing

"It is rare to find someone who seeks God as Michelle DeRusha does—with an authenticity the world lacks, with the wit and candor of Anne Lamott, and with the humility of Christ himself. Spiritual Misfit is the unadulterated journey of a woman who knows what it is to struggle and what it is to overcome. You'll come away changed."
—Emily T. Wierenga, author of Atlas Girl

"Michelle DeRusha's Spiritual Misfit is a generous and honest portrait of stumbling into faith. This book is an invitation to wonder and journey, masterfully crafted by Michelle's insights and humor. At once vulnerable, at once assured, this narrative offers a welcome and fresh perspective on the spiritual memoir and on the coming to terms of faith within ourselves and our communities."
—Preston Yancey, author of Tables in the Wilderness: A Memoir of God Found, Lost, and Found Again

"This is the book we've been waiting for! It's the book we need, because there is no way we get to faith without asking a bunch of questions and fumbling around in the dark for a while. This book frees us to be ourselves with Jesus, and to let him pursue us and woo us and love us and challenge us and stretch us. Michelle tells her story with humor and heart. It's as if she knew someone needed to go first, giving the rest of us courage to exhale and say, 'Whew! I'm not the only one!'"
—Deidra Riggs, managing editor, The High Calling; founder, JumpingTandem

"Michelle DeRusha is a masterful writer who brings fresh insight, imagery, and wisdom to the spiritual memoir genre. Spiritual Misfit invites the reader to climb a tree and cock the head to see the world from a whole new perspective. It's funny, smart, and brimming with hope—a book for those new to faith and those who long for a faith that's new. I look forward to reading everything Michelle DeRusha writes."
—Rachel Held Evans, author of A Year of Biblical Womanhood