The Next Level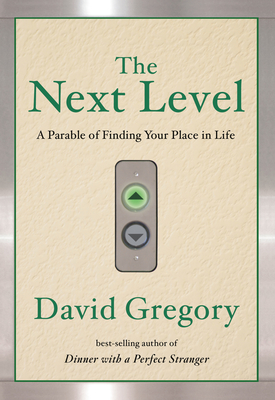 The Next Level
A Parable of Finding Your Place in Life
Waterbrook Press, Paperback, 9781601426802, 119pp.
Publication Date: February 19, 2008
* Individual store prices may vary.
Buy at Local Store
Enter your zip code below to purchase from an indie close to you.
or
Buy Here
Description
Business degree in hand, Logan enters the immense Universal Systems building and is hired as an organizational analyst a trouble-shooter. His job: evaluate the company's five divisions, each on a separate level and each operating on startlingly unique principles. Which set of principles is successful? Why is most of the company's profit generated by one tiny division? What is real profit, anyway? And who is the enigmatic executive that Logan ends up reporting to?
Logan engages in a life-changing pursuit for "The Next Level" a fascinating parable that will help you answer some of life's most perplexing and vital questions. Joining Logan in evaluating each level's approach, you ll be inspired to consider the big picture of your own life from an entirely different perspective one that holds the key to life's ultimate purpose. No matter where you are now, get ready to embark on your own passionate pursuit of "The Next Level.

About the Author
David Gregory is the author of several books including the New York Times bestseller Dinner with a Perfect Stranger and Christy Award finalist The Last Christian. David earned masters degrees from Dallas Theological Seminary and the University of North Texas. He now writes full time and lives in the Pacific Northwest.
Praise For The Next Level…
Praise for
Dinner with a Perfect Stranger
"Here's a wonderful feast for the mind and soul! Pull up a chair and eavesdrop on this provocative conversation. If you're like me, you'll hear questions that match your own–and answers that can change your life."
–Lee Strobel, author of The Case for Christ, The Case for Faith, and The Case for a Creator
"The choice is yours: Enjoy a delicious meal of, say, veal fantarella with grilled vegetables. Or spend a quiet hour reading Gregory's book. You may find an altogether different sort of hunger has been sated by the final page. Brilliant in its simplicity, fearless in its presentation of the truth, Dinner with a Perfect Stranger is one invitation you'll want to RSVP."
–Liz Curtis Higgs, author, Thorn in My Heart


Praise for
A Day with a Perfect Stranger
"Brilliant. Masterful. Filled with liberating truth."
–Stephen Arterburn, best-selling author of Every Man's Battle, founder and chairman of New Life Ministries
"Fasten your seat belt for another marvelously divine encounter with the Perfect Stranger! Once again, Gregory masterfully demonstrates just how passionately and intimately our God loves each one of us. If you are looking for an encouraging faith encounter, the Perfect Stranger books are the most palatable and powerful tools of our day."
–Shannon Ethridge, best-selling author of Completely His, Every Woman's Battle, and Every Woman's Marriage
"While I like Dinner with a Perfect Stranger very much, I loved A Day with a Perfect Stranger. This book has the potential to make people think about what drives them, what keeps them from God, and what will ultimately fulfill them. In a feelings-based and satisfaction-driven society, this is an invaluable tool. People are hungering for the answers to questions Mattie gets to ask. I can't wait to hand it out to friends who do not yet know the Stranger in their midst."
–Lisa T. Bergren, best-selling author of The Begotten
"Deftly using narrative to touch on common objections to belief in God, [Gregory] contracts religiosity with relationship with God. As a light, brief introduction to the faith, A Day with a Perfect Stranger is a good pick for women seekers.
–Aspiring Retail