Propel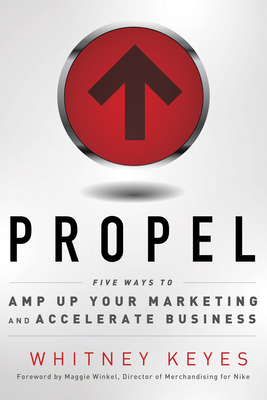 Propel
Five Ways to Amp-Up Your Marketing and Accelerate Business
Career Press, Paperback, 9781601632333, 223pp.
Publication Date: August 22, 2012
* Individual store prices may vary.
Buy Now
or
Shop Local
Enter your zip code below to purchase from an indie close to you.
Description
"Propel is the ideal word to describe the effect on your profits and your sense of accomplishment that this wonderful book can motivate. Whitney Keyes tells you what you ought to know and will never forget."
--Jay Conrad Levinson, the father of guerrilla marketing, author, Guerrilla Marketing series
"She draws on her years of experience with big-time brands and game-changing startups to provide a cutting-edge manifesto for marketers--and a manual to make things happen. This book will propel your business forward."
--William C. Taylor, cofounder, Fast Company, author of Practically Radical
"With her latest book, Whitney offers a savvy, up-to-the-minute perspective on how marketing and its various disciplines can jump-start a company's strategy and enhance its brand cachet. She offers straightforward ideas on strategy, storytelling, strength of message, simplicity of approach, and speed to market. A must-read for anyone whose job (or dream vocation) revolves around customers and the positioning and selling of a brand or service."
--Corey duBrowa, senior vice president of global communications and international public affairs, Starbucks
"If you've ever wished you could sit down for a few hours and have a conversation with a marketing expert, this is the book for you Whitney's conversational writing style, peppered with real-world examples from a variety of business types, is a great way to get marketing advice from an expert."
--Lisa Stratton, senior marketing manager, Microsoft
"Whitney's keen understanding of marketing has led her to enable business evolution and growth across a spectrum of influence: from teams inside giants like Microsoft women-owned start-ups in Africa "
--Maggie Winkel, Director of Merchandising for Nike, Inc.
Blending traditional marketing techniques with social media tools, Propel shows you how to identify opportunities at your fingertips and use them to build market share, boost brand loyalty, and generate more revenue--fast Whitney Keyes has gathered a wide variety of success stories from behind-the-scenes interviews with senior executives at companies such as Alaska Airlines and Starbucks, as well as with the heads of arts organizations, savvy entrepreneurs, and Main Street mavericks.
She'll show you how to:
Remove blocks and challenges holding your business back
Uncover overlooked business and marketing opportunities
Turn ideas into action by creating a customized marketing plan
About the Author
Whitney Keyes is an international speaker, marketing expert, and strategic communications professor. For more than 20 years, she has helped organizations and individuals succeed. Keyes worked as a senior Microsoft manager, strategic advisor for American Express, and consultant to thousands of businesses around the world. While at Microsoft, she managed global marketing campaigns, including the launch of Office 2000, and helped create Microsoft's primary philanthropy program, Unlimited Potential. Today, Keyes manages a consulting practice, serves as a fellow for Seattle University's Center for Strategic Communications, and delivers keynotes and workshops for the Small Business Administration and U.S. State Department.