A Cousin's Promise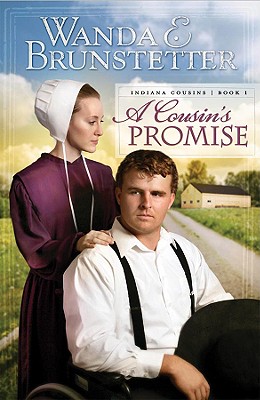 A Cousin's Promise
Barbour Books, Paperback, 9781602600607, 288pp.
Publication Date: March 1, 2009
* Individual store prices may vary.
Buy at Local Store
Enter your zip code below to purchase from an indie close to you.
or
Not Currently Available for Direct Purchase
Description
"Willkumm" to the lush and lavish Amish country where Wanda Brunstetter's new romantic series, Indiana Cousins, begins with "A Cousin's Promise." Loraine Miller finds herself torn between the love of two good men Wayne Lambright who, crippled after a tragic accident, feels himself unworthy of her love; and Jake Beechy who, after having abandoned her to explore the English world, returns to renew their courtship. To which man will she pledge her love and loyalty for better or worse, until death they do part?
Praise For A Cousin's Promise…
The strong spiritual element is perfectly evidenced in the characters' consistent, loving Christian attitudes, even when it is met with hostility. Brunstetter kicks off the Indiana Cousins series and demonstrates how God can help flawed Christians deal with devastating situations.
-LESLIE MCKEE

A Cousin's Promise Wanda E. Brunstetter. Barbour, $10.97 paper ISBN 978-1-60260-060-7. Amish specialist Brunstetter kicks off a new series set in Indiana Amish country. Loraine Miller's fiancé, Wayne Lambright, is crippled in the car accident that opens the novel. That initiates a tale of complications in their relationship. Wayne wants Loraine to be happy and doesn't believe a disabled man can meet her needs; Loraine doesn't understand the psychological complexities of Wayne's recovery. Into the tension between the two lovers comes Loraine's old boyfriend Jake, sorry for what he's lost and hoping to pick up the pieces. There's cooking, visiting and lots of neighborly support that fans of Brunstetter will appreciate as staples of Amish fiction. Since Loraine Miller also has a number of cousins introduced who face difficulties in the novel, the series setup is clear. Brunstetter could develop a better ear for dialogue, but she has a good ear for the distinctive Dietsch language of the Amish, sprinkling phrases of it into her characters' speech. Fans might enjoy reading this while the friendship bread is baking in the oven. (Mar.)





Set amid a quaint Indiana Amish community, A Cousin's Promise, the first book in Wanda Brunstetter's new "Indiana Cousins" series (Barbour, p, $10.97, ISBN 9781602600607), captures the simple, traditional Amish way of life beautifully. With heartfelt love for and understanding of these people, Brunstetter teaches life lessons by intertwining the Amish lifestyle with a light romance story, while delineating the plot with a wide range of emotions and behavior generated from grief and loss--and the adverse effects it can have on even the closest relationships. A special section contains questions on the grieving process, relationship, and life lessons learned. Recommend A Cousin's Promise to teens and adults who enjoy a good love story with a message.
-NANCY KANAFANI

An excellent rendering of life taken out of our control and the dynamic results not only for individuals, but for a whole community.
-KATHY JOHNSON

Great book! I really enjoy Mrs. Brunstetter's novels and this one did not change my opinion at all! Character's were easy to empathize with. Story was not expected. FANTASTIC READ!
-JENNIFER CASLER

The first in the series "Indiana Cousins" and a great book as always when Wanda Brunstetter writes about the Amish...As you read this book, you hurt and even cry with these young people.
-Edna Tollison