Lydia's Charm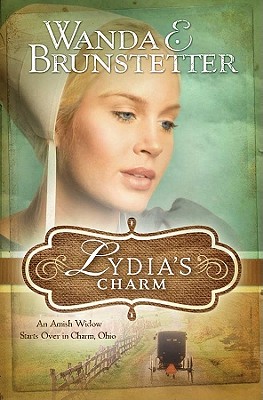 Lydia's Charm
An Amish Widow Starts Over in Charm, Ohio
Barbour Books, Paperback, 9781602600638, 384pp.
Publication Date: September 1, 2010
* Individual store prices may vary.
Not Currently Available for Direct Purchase
or
Shop Local
Enter your zip code below to purchase from an indie close to you.
Description
Visit Amish Country during the fall as Lydia King attempts to make Charm, Ohio, feel like home after losing her husband. But is her heart ready to open back up to love when gifts appear on her porch from a mystery source? Could it be from the widowed father of four energetic boys, or is it from the man who has rejected romance to be his family's caregiver? When life hands Lydia another challenge, will the gift giver be there to support her?
About the Author
New York Times bestselling author, Wanda E. Brunstetter became fascinated with the Amish way of life when she first visited her husband's Mennonite relatives living in Pennsylvania. Wanda and her husband, Richard, live in Washington State but take every opportunity to visit Amish settlements throughout the States, where they have many Amish friends.
Praise For Lydia's Charm…
Brunstetter crafts realistic characters and a storyline that will lift up the reader's spirit. The Amish deal with the same struggles as the "Englishers," but they seem to have a sense of inner peace, which is not always evident in the fast-paced, technology-driven English world. (4-Star Review) -- Leslie L. McKee, Romantic Times, October 2010
-Leslie L. McKee

Wanda E. Brunstetter portrays a wonderful detail of life in an Amish community. This story is about loss and love, strength and weakness, and sadness and hope. At times, I found it so heartbreaking that it bought me to tears but in the end, it is balanced with hope and love. The characters are so realistic I felt as if I stepped out onto my front porch one or more of them would ride up in their horse and buggy. I enjoyed the fact that the author did not shy away from the not so nice aspects of some people's personalities. It was with depth and insight that we were able to see why Mae behaved as she did. The way Ms. Brustetter handled the introduction of the Stutzman family and the way they dealt with their special circumstances was a testament of how we all deal with prejudices and carry on with our lives. This is a well-written tale of faith and hope and if you are looking for a solid story about starting over when faced with tragedy and despair, this is one to read.
-Venus Cahill

Wanda fills this 5 star book with everything from sadness to love and hope. She weaves God's love and grace through her amazing work, make this novel unforgettable. If you are new to Amish fiction, grab a copy of Lydia's Charm now....you'll be forever hooked! If you're already a Brunstetter fan, then you MUST add this book to your fabulous collection!

-Molly Edwards

Most Amish love stories I've read revolve around one female and one male. You know in the end they will most likely get together. But, this one is different...I was intrigued and kept trying to figure out which one Lydia would want to marry. Along the way I gasped, cried, and laughed at all the story's twists and turns. If you are a lover of Amish fiction, this is one book that you won't want to miss!
-Jodie Moore

This book definitely has periods of sadness, but it is a beautiful story of a woman trying to heal from the tragedies of life when more tragedy hits, and how her faith helps her get through...I think it's a beautiful book worth the read!
-Chamille Buffenmeyer

Wanda E. Brunsteller skillfully incorporates the Amish way of life into the actions of a community of people who work hard to make a living, but still find time to have fun and to nurture and "practice-what-they-preach" in their religious beliefs.

Lydia's Charm is an amazing story about living by faith. Ms. Brunsteller's straightforward style of writing and her character development create an uplifting story of love and highlight the best of human nature while revealing the imperfections that are overcome. She gives the reader a most satisfying happy-ever-after.

-Camellia

This was my introduction to the world of Amish Romance and I was delighted; Heart-warming, heartbreaking, intense and surprising, Lydia's Charm was a lovely read. I'm looking forward to reading more in this style and from this author.


-Alison Sammes

Oh, my goodness!! This books dealt with so much I just don't know how the author kept everyone straight and crammed all of those situations into one book. I laughed out loud in the first fifty pages. I was crying before I was a third of the way through. I even got angry a couple of times. Let me tell you - if you want an emotional rollercoaster this is the books for you!!I'd recommend this book to just about everyone. It's one I'll share across the board - mom, sisters, grandma, and my nieces. Grab it, today!
-Regina Hott

Lydia's Charm is an Amish story that really has its roots based in real life. It was hard to fathom all the hardships that Lydia faced in this story...Wanda really brings her characters to life in her stories and she makes them real. They suffer losses just like the rest of us. Lydia even goes through some unemployment in this book. Again, its all very real.


-Andrea Guy

Mrs. Brunstetter does a fantastic job at instilling the simple truths into stories. If you've been through hard times recently or are going through hard times I highly suggest this book. It will bring hope to your heart and remind you that God never leaves you nor forsakes you regardless of what's going on in the world around us.
-Sharise Toombs

I was mesmerized as I learned not only more about Lydia, but also about the Amish culture. This is a truly fascinating story as we gain a better understanding of the Amish culture and how they truly embrace their sense of community. The trials and tribulations that Lydia endures after she returns to Charm will simply rip your heart out and make you weep. But Lydia is a strong woman, who is a survivor. Despite everything that she's lost, she's still a caring, giving woman who is an inspiration to us all.



Lydia's Charm will make you laugh, cry, and at times want to scream as these characters learn how to co-exist. This mesmerimizing story of faith will bring Joy to your heart and will make you beg for more with the turn of every page. It's obvious that Ms. Brunstetter has done her research on the Amish culture, which I found extremely intriguing. In fact, I can't wait to read more of Ms. Brunstetter's stories regarding the Amish culture. Lydia's Charm is Christian romance at it's finest and will warm your heart.

If you're looking for a heart-warming story that will bring tears and laughter to your heart all at the same time, where community, faith, unconditional love, and forgiveness are the key factors that makes this story so capitvating, then Lydia's Charm is definitely the book to read. I will absolutely be picking up more of Ms. Brunstetter's books as they are enlighting and such a joy to read. I'm completely fascinating by the Amish culture and am eager to learn more. Bravo Ms. Brunstetter for creating such a wonderful story.


-Vicki Krivak