Diary of a Stage Mother's Daughter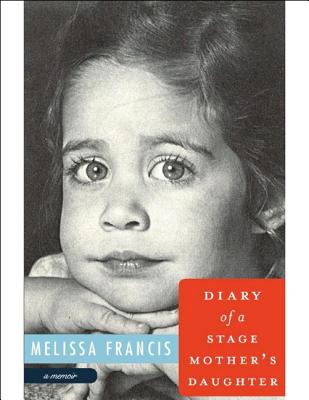 Diary of a Stage Mother's Daughter
Weinstein Books, Hardcover, 9781602861725, 294pp.
Publication Date: November 6, 2012
* Individual store prices may vary.
Buy at Local Store
Enter your zip code below to purchase from an indie close to you.
or
Not Currently Available for Direct Purchase
Description
"The Glass Castle" meets "The Battle Hymn of the Tiger Mother" in this dazzlingly honest and provocative family memoir by former child actress and current Fox Business Network anchor Melissa Francis.When Melissa Francis was eight years old, she won the role of lifetime: playing Cassandra Cooper Ingalls, the little girl who was adopted with her brother (played by young Jason Bateman) by the Ingalls family on the world's most famous primetime soap opera, "Little House on the Prairie."Despite her age, she was already a veteran actress, living a charmed life, moving from one Hollywood set to the next.But behind the scenes, her success was fueled by the pride, pressure, and sometimes grinding cruelty of her stage mother, as fame and a mother's ambition pushed her older sister deeper into the shadows."Diary of a Stage Mother's Daughter" is a fascinating account of life as a child star in the 1980's, and also a startling tale of a family under the care of a highly neurotic, dangerously competitive tiger mother. But perhaps most importantly, now that Melissa has two sons of her own, it's a meditation on motherhood, and the value of pushing your children: how hard should you push a child to succeed, and at what point does your help turn into harm?
About the Author
Born and bred in Arkansas, Melissa Francis is a small-town southern girl with big-city dreams. The University of Arkansas at Little Rock allowed her to graduate with an English degree, but many of her friends wonder how when she uses words like y'all, dunno, gonna, and fixin' to. Her first novel was Bite Me!
Praise For Diary of a Stage Mother's Daughter…
Hoda Kotb, author of Hoda: How I Survived War Zones, Bad Hair, Cancer, and Kathie Lee, and co-host of the Today show
"I am always in search of the book I can't put down.  Well, thanks to Melissa Francis, I FOUND it. I may have missed a few nights sleep, but I am so much better for it.  Her book is captivating, revealing and ultimately healing.   Who knew the kid from Little House on the Prairie had such a fascinating real-life story?  I am in awe."

Kirkus Review
"Chilling memoir by a Fox Business Network anchor and child star chronicles the misery of growing up with a cruel, controlling and abusive stage mother. Francis' narrative grabs readers immediately. One of those intimate, heartbreaking, doubled-edged stories that is hard to read, impossible to put down."

Publisher's Weekly
"Compelling...A thoughtful trek across a troubled family landscape resulting in a bittersweet yet hopeful final act."