The Good-To-Go Cookbook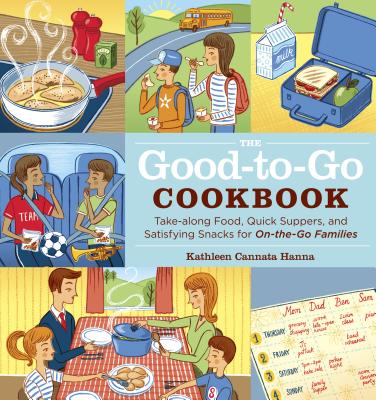 The Good-To-Go Cookbook
Take-Along Food, Quick Suppers, and Satisfying Snacks for On-The-Go Families
Storey Publishing, Paperback, 9781603420761, 327pp.
Publication Date: August 13, 2008
* Individual store prices may vary.
Buy at Local Store
Enter your zip code below to purchase from an indie close to you.
or
Buy Here
Description
As busy schedules cut into the food preparation time of families with active teenagers, takeout pizzas and Pop-Tart breakfasts become the norm. But Pop-Tarts fall pretty short in the nutrition category. Fresh fruit smoothies, yogurt parfaits, homemade granola, and breakfast sandwiches all provide a better start to the day, but how to fit more nutritious choices into hectic daily routines?
Author Kathleen Cannata Hanna responds to the challenge of keeping teenagers healthy, fit, and full with 300 economical recipes that are both easy to make and fun to eat. She offers 15-minute dinners and satisfying pastas for the busiest evenings and 30-minute dinners and family suppers for slightly more relaxed weeknights and weekends.
Hanna knows that feeding teenagers involves more than serving dinnertime meals. There are grab-and-go breakfasts to be eaten on the bus, brown-bag lunches, after-school snacks, soccer game pick-me-ups, and after-dinner treats for the kids and any friends that might be in the house too. The appealing recipes in "The Good-to-Go Cookbook" steer teens away from junk food and toward good-for-you alternatives.
Quick Quesadillas, Easy Pizza Squares, Stuffed Chicken Crescents, and Ham Pockets satisfy between-meal hunger pangs. There are soups, sandwiches, and hearty salads for lunch and Baked Pasta with Peas and Cheese, BLT Pie, Tortilla Casserole, and Barbecued Turkey Burgers for simple suppers. When their friends are sleeping over, treat your teens to Sweet Treat Cookie Sandwiches or a Peanut Butter Pie. With "The Good-to-Go Cookbook" in the kitchen it's possible to feed the entire family quickly and well and still arrive at every track meet and ballet recital on time.
About the Author
Kathleen Cannata Hanna is an architect and public speaker. She has also run a successful baking and catering business. Hanna is the mother of two busy teenagers, who were enthusiastic testers for "The Good-to-Go Cookbook".