What Can I Do with My Herbs?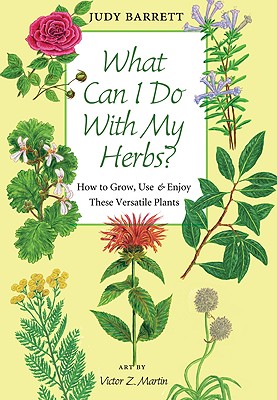 What Can I Do with My Herbs?
How to Grow, Use & Enjoy These Versatile Plants
Texas A&M University Press, Hardcover, 9781603440929, 134pp.
Publication Date: March 18, 2009
* Individual store prices may vary.
Buy at Local Store
Enter your zip code below to purchase from an indie close to you.
or
Buy Here
Description
With tips covering everything from artemisia to vetiver grass, "What Can I Do with My Herbs?" offers a fun and lively look at forty common herbs and the creative and useful things people do with them. Each herb description includes the plant's history and a list of popular uses, as well as helpful information about how to successfully grow them, how to enjoy them in the garden (watch the swallowtail butterflies and caterpillars that love fennel), or how to use them in the kitchen (substitute the yellow flowers of calendula for saffron). Judy Barrett even shares some of her favorite recipes, including lavender lemonade and thyme cheese rolls. Barrett also suggests uses for each specific herb outside the kitchen. Readers will learn how to bathe with basil, fight fungus with chamomile, fertilize with comfrey, clean house with rosemary, and much, much more. Gardeners, herbalists, and anyone interested in learning more about herbs will relish this compact and easy-to-understand practical guide to growing and enjoying these versatile plants.
About the Author
Judy Barrett was born and raised on a farm along Oneida Lake in Bridgeport. She graduated with a degree in history from LeMoyne College, continued her education by obtaining a further degree in education at Syracuse University, and became a teacher. She retired after 32 years of teaching and is presently working part-time at the Bridgeport Library.


Praise For What Can I Do with My Herbs?…
"A convenient, comprehensive, and easy-to-read users'' guide to all the herbs you''ll want to grow. Barrett tells you what you want to know to make the best use of the plants you love."  --Susan Wittig, author of the bestselling  China Bayles Herbal Mysteries
-Susan Wittig

"There is much to like about Judy Barrett''s What Can I Do with My Herbs?  From the title to the final recommendation encouraging greater use of herbs in the landscape, I found it great fun to read and learned a lot. Barrett writes naturally, engagingly, and with ease."  --Cheryl Hazeltine, coauthor of  The New Central Texas Gardener
-Cheryl Hazeltine

" . . . . a practical, approachable, and really useful guide to enjoying your homegrown herbs everyday."  --Renee Shepherd, president and owner of Renee''s Garden Seed
-Renee Shepherd

"Barrett''s conversational, friendly style makes you realize that the 40 herbs she chose are familiar, old friends of hers. She fills this slim volume with good advice on ways to use herbs, despite suggesting that they not be used medicinally. This is Barrett''s fourth gardening book. She also edits Homegrown magazine."