Exposed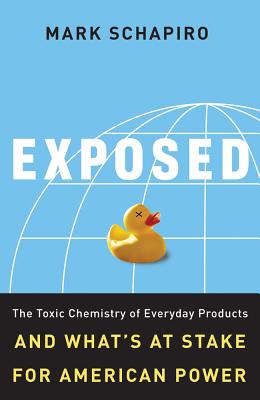 Exposed
The Toxic Chemistry of Everyday Products and What's at Stake for American Power
Chelsea Green Publishing Company, Paperback, 9781603580588, 216pp.
Publication Date: February 1, 2009
* Individual store prices may vary.
Buy at Local Store
Enter your zip code below to purchase from an indie close to you.
or
Buy Here
Description
From tainted pet food to toxic toys, Americans can thank the successful lobbying efforts of the U.S. chemical industry for the secret ingredients in everyday products that have been linked to rising rates of infertility, endocrine system disruptions, neurological disorders, and cancer.
While the U.S. Congress stalls in the face of these dangers, the European Union has chosen to act. Strict consumer-safety regulations have forced multinationals to manufacture safer products for European consumers, while lower U.S. standards allow them to continue selling unsafe products to Americans. Schapiro's expose shows that short of strong government action, the United States will lose not only its ability to protect citizens from environmental hazards but also, as economic priorities shift, whatever claim it has to commercial supremacy. Increasingly, products on American shelves are equated with serious health hazards, hazards that the European Union is legislating out of existence in its powerful trading bloc, a lead that even China is beginning to follow. Schapiro illustrates how the blowback from weak regulation at home carries a steep economic, as well as environmental, price.
In Exposed: The Toxic Chemistry of Everyday Products and What's at Stake for American Power, investigative journalist Mark Schapiro takes the reader to the front lines of global corporate and political power, where tectonic battles are being waged that will determine the physical and economic health of our children and ourselves.
About the Author
Mark Schapiro is an award-winning investigative journalist who explores the intersection between the environment, economics, and international political power. His writing appears in Harper s, The Atlantic, Yale Environment 360, The Nation, and other publications. His most recent book, The End of Stationarity, reports from environmental tension zones around the world where the costs of climate change are being experienced and fought over. His previous book was Exposed: The Toxic Chemistry of Everyday Products and What's at Stake for American Power. He is an adjunct professor at the Middlebury Institute of International Studies at Monterey and lecturer at the UC Berkeley Graduate School of Journalism. He was formerly senior correspondent at The Center for Investigative Reporting.