The Transition Timeline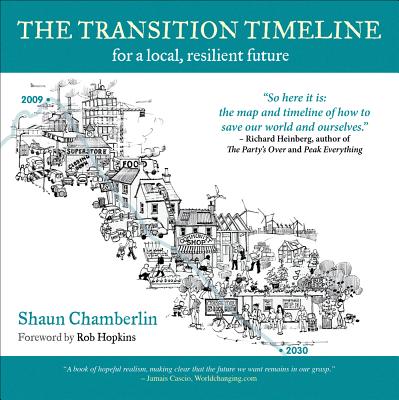 The Transition Timeline
For a Local, Resilient Future
Chelsea Green Publishing Company, Paperback, 9781603582001, 190pp.
Publication Date: May 1, 2009
* Individual store prices may vary.
Buy at Local Store
Enter your zip code below to purchase from an indie close to you.
or
Not Currently Available for Direct Purchase
Description
The Transition Timeline lightens the fear of our uncertain future, providing a map of what we are facing and the different pathways available to us. It describes four possible scenarios for the UK and world over the next twenty years, ranging from Denial, in which we reap the consequences of failing to acknowledge and respond to our environmental challenges, to the Transition Vision, in which we shift our cultural assumptions to fit our circumstances and move into a more fulfilling, lower energy world.
The practical, realistic details of this Transition Vision are examined in depth, covering key areas such as food, energy, demographics, transport and healthcare, and they provide a sense of context for communities working towards a thriving future. The book also provides a detailed and accessible update on climate change and peak oil and the interactions between them, including their impacts in the UK, present and future.Use it. Choose your path, and then make that future real with your actions, individually and with your community. As Rob Hopkins outlines in his foreword, there is a rapidly spreading movement addressing these challenges, and it needs you.
About the Author
Shaun Chamberlin has been involved with the Transition Network since its inception, cofounding Transition Town Kingston and authoring the movement s second book, The Transition Timeline. He is managing director of the Fleming Policy Centre and former chair of the Ecological Land Co-operative, and has spoken at venues ranging from Occupy camps to parliaments.In exploring the cultural narratives charting society s course he has written for or edited a diverse range of books, magazines, academic journals, and other publications, including coauthoring a significant UK All Party Parliamentary report with his close friend and regular collaborator David Fleming.His website is www.darkoptimism.org.
Rob Hopkins is the cofounder of Transition Town Totnes and of the Transition Network. He has many years' experience in education, teaching permaculture, and natural building, and set up the first two year-full-time permaculture course in the world, at Kinsale Further Education College in Ireland, as well as coordinating the first eco-village development in Ireland to be granted planning permission.
He is author of Woodlands for West Cork!, Energy Descent Pathways and most recently The Transition Handbook: From oil dependency to local resilience, which has been published in a number of other languages, and which was voted the fifth-most-popular book taken on holiday by MPs during the summer of 2008. He publishes www.transitionculture.org, recently voted the fourth best green blog in the UK. He is the winner of the 2008 Schumacher Award, an Ashoka Fellow, a Fellow of the Post Carbon Institute, served three years as a Trustee of the Soil Association, and was named by the Independent as one of the UK's top 100 environmentalists. He is the winner of the 2009 Observer Ethical Award for the Grassroots Campaigner category, and in December 2009 was voted the Energy Saving Trust/Guardian's Green Community Hero. He lectures and writes widely on peak oil and Transition, holds an MSc in Social Research, and recently completed a PhD at the University of Plymouth entitled "Localisation and resilience at the local level: the case of Transition Town Totnes." He lives in Devon and is a keen gardener.