Inquiries Into the Nature of Slow Money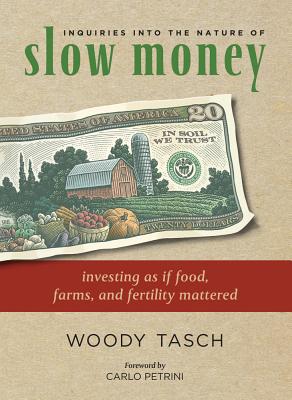 Inquiries Into the Nature of Slow Money
Investing as If Food, Farms, and Fertility Mattered
Chelsea Green Publishing Company, Paperback, 9781603582544, 204pp.
Publication Date: May 15, 2010
* Individual store prices may vary.
Buy Now
or
Shop Local
Enter your zip code below to purchase from an indie close to you.
Description
Could there ever be an alternative stock exchange dedicated to slow, small, and local? Could a million American families get their food from CSAs? What if you had to invest 50 percent of your assets within 50 miles of where you live?Such questions-at the heart of slow money-represent the first steps on our path to a new economy.
Inquiries into the Nature of Slow Money presents an essential new strategy for investing in local food systems and introduces a group of fiduciary activists who are exploring what should come after industrial finance and industrial agriculture. Theirs is a vision for investing that puts soil fertility into return-on-investment calculations and serves people and place as much at it serves industry sectors and markets.
Leading the charge is Woody Tasch-whose decades of work as a venture capitalist, foundation treasurer, and entrepreneur now shed new light on a truer, more beautiful, more prudent kind of fiduciary responsibility. He offers an alternative vision to the dusty old industrial concepts of the nineteenth and twentieth centuries when dollars, and the businesses they financed, lost their connection to place; slow money, on the other hand, is firmly rooted in the new economic, social, and environmental realities of the 21st century.
Inquiries into the Nature of Slow Money is a call to action for designing capital markets built around not extraction and consumption but preservation and restoration. Is it a movement or is it an investment strategy? Yes.
About the Author
Woody Tasch is the Founder and Chairman of Slow Money, a non-profit headquartered in Boulder, Colorado, with an alliance of national and international chapters. Slow Money took root in 2009 when Tasch wrote his groundbreaking book Inquiries Into the Nature of Slow Money: Investing as if Food, Farms, and Fertility Mattered.
Tasch is widely regarded as a pioneer of the concepts of patient capital, mission-related investing and community-building venture capital. For ten years before founding Slow Money, he was the Chairman of Investor s Circle, a network of investors that funds startups that emphasize sustainable business practices. Tasch was founding chairman of the Community Development Venture Capital Alliance and Treasurer of the Jessie Smith Noyes Foundation during the 90s, where he had the foresight to invest $1.25 million in Stonyfield Farm, which returned 3x cash-on-cash in five years.
Tasch is now working on the sequel to his first book, revisiting the fundamental principles of Slow Money, based on the experience of the last four years launching the organization and movement. To date, Slow Money has moved $30 million into 221 small food businesses around the country, including farms, creameries, grain mills, niche organic brands, local processing, distribution and seed companies, and restaurants.
Carlo Petrini, born in the small northern Italian town of Bra in 1949, is the founder and international president of the Slow Food movement, committed to the promotion of "good, clean and fair food." The author of several books, he contributes regularly to Italian dailies and magazines on matters related to gastronomy and food politics. To write Terra Madre, he collaborated closely with Carlo Bogliotti, an editor of the Slowfood magazine and governor of the Slow Food Italy association.